by Marybeth Hamilton
Going to a blog conference by yourself? Give yourself a pat on the back. It takes a lot of courage to attend an event where you don't know anyone!
Conferences can be intimidating, so it's OK to be nervous about showing up solo. Fortunately, bloggers are extremely nice people. Even if you don't know anyone before you step into that big conference space, I promise you'll know more than a few bloggers by the time you leave!
If you're attending a blog conference by yourself and you don't know anyone, it's best to have a plan for how you're going spend your time leading up to the big day(s), and what you'll do while you're at the conference.
Before the Conference
Check out the conference website: Your first job is to get on the conference website and look for a list of attendees or a "link up." This will allow you to see the other people who will be there.

If you see someone familiar on the list, or someone you'd like to meet, reach out to him or her! A quick email or Facebook message stating, Hey, I saw your name on the list for Blogger Bash 2016. I'm Marybeth from www.babysavers.com and I'll be there, too. I'm looking forward to meeting you in person! will help break the ice when you're at the conference and ready to introduce yourself IRL.

Announce your attendance on Facebook: A few days before the conference starts share a status update on Facebook. Be sure to include the full conference name and hashtag in your post to make your details easy to find. At the very least, you'll get some encouraging comments telling you to have fun and enjoy yourself. Best case scenario? People will let you know that they'll be there too OR they'll share the names of other people who will also be attending the conference. If you've already got a ticket to BBNYC, join the Attendees Facebook group to see who else will be there!
Prepare an elevator pitch. Believe me, knowing what you're going to say when people ask about your blog will boost your confidence. On the other hand, stumbling over your words and not knowing how to articulate your blog's purpose will make you want to scurry into a corner and avoid interaction!

Other attendees will ask you what your site is and what it's about. Prepare 2 to 3 sentences to quickly share the basics and you'll be miles ahead of where you were before.

Example: (Note: this is totally fabricated—I even made up the URL, so I hope I'm not stepping on any toes!) "My site is homemadeathome.com. I write about my time as a stay-at-home mom and how I fill my days cooking, crafting, and cleaning."

That's it! Just think of an elevator pitch as how you'd describe you and your blog if you only had a short elevator ride to explain it.
At the Conference

Remember: You're at this conference to meet bloggers. That means other bloggers are at this conference to meet you.
Don't show up late: You might think it will be easier to sneak in late and find an unobtrusive hiding place at a corner table. This is not true. You'll either draw attention to yourself by interrupting opening remarks or you'll have a hard time breaking into existing conversations during social time.

Instead, show up early. Grab a seat at a table with a great view of the presenters. People might not know you yet, but they'll want to sit with you at your awesome table! Then, pick up your business cards and take advantage of the networking time you have before the conference starts.

Introduce yourself: This is the part where you might need to remind yourself that you're responsible for your own success. Introducing yourself can be scary, but I promise you this: people at the conference want to meet you. Keep your business cards handy and offer one to every person you meet to make yourself more memorable.
Be approachable: Remember, you're not the only one attending this conference without a gaggle of BFFs. Keep your arms uncrossed, stand up straight, and smile at anyone who makes eye contact. Above all, stay off your phone. It's a clear signal that you're busy and you're not up for conversation.
After the Conference
You have one job after you're home from the conference: Follow up with the people you met. As bloggers we live so much of our lives online. Meeting others in person who share our passion for blogging is special! If the people you met at the conference are on Facebook be sure to Friend them. Send a message or an email letting them know that it was great to meet them. If they made you feel more comfortable, if you learned something from them or if they did anything that stands out be sure to mention it!
All in all, attending a blog conference by yourself is an empowering experience that helps you realize what you're capable of.
Have you attended a blog conference where you didn't know anyone else? What did you do to help you get the most out of the experience?
---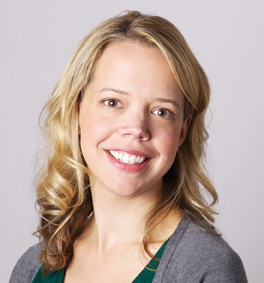 Blogging since 2008 at babysavers.com, Marybeth Hamilton is a former finance executive who accidentally became a professional blogger, e-book author, and social media consultant shortly after becoming a mom. Marybeth has been featured in All You, Woman's Day, and Parents magazines and has partnered with many of her favorite brands.
Marybeth spends her days in Minnesota with her husband and two kids. She spoils her dog, loves her two mean cats, obsesses over Broadway musicals, devours pop culture trivia, and reads more than 100 trashy books a year. Her favorite food is frosting and her favorite place is Disney World.