As bloggers, we often have a lot of product left over from our blog reviews or we have a pile of free samples from conferences. Over time, it can add up to a pile of clutter in our homes. So, consider an annual yard or garage sale! It is a great way to clean out your house, get organized, make some cash, or raise money for charity.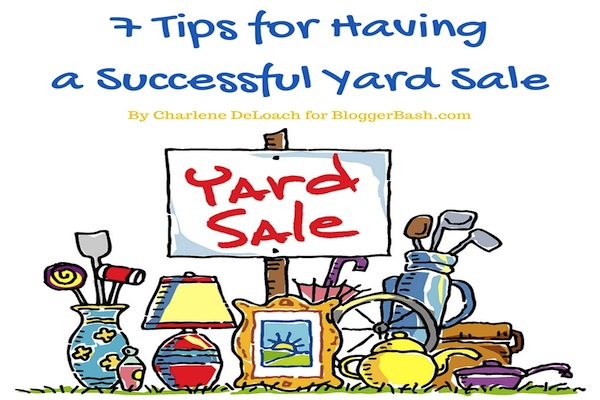 According to Yardsales.net there are 165,000 yard sales a week in the U.S., but how successful your sale is, depends on a few factors. Here are 7 tips for having a successful yard or garage sale.
1. Use social media! Send out tweets, post in Facebook groups or let people know about your sale on your Facebook page. If you can, include a photo to get more eyes on your prizes. It is also a great way to show what is for sale.
2. Minimize the signs and maximize the Internet. Post your yard sale on Craigslist, Yardsales.net and Garagesalefinder.com. They are all free to post and reaches a larger and broader audience. Make sure to clearly state the items you have. Is it mostly toys? Baby gear? Or house items? Let them know so you get the right buyers for most of your stuff.
3. Get neighbors to do it too. The more the merrier and a bigger draw to your neighborhood. Will there be some competition for your items compared to your neighbors' similar ones? Maybe, but it will draw larger crowds and give more people shopping options.
4. Hold it during popular times. According to Yardsales.net, the most popular day of the week is Saturday and the most opportune time is between 8 a.m. – 12 p.m.. People are out looking for shopping deals and it is before the hectic afternoons with birthday parties and sport outings. So try to schedule your sale then.
5. Don't forget the supplies. Make sure you have batteries & screw drivers in case a toy is not working and a customer is wondering if it works. Make sure you have calculators to add things up, grocery store bags to give people a hand in carrying out the copious goodies they discovered, and lots of change, including quarters, one dollar bills and more.
6. Enlist help. Whether you just need extra hands to help you set up quickly, or people to help make change or answer questions, having a crew of family and friends can make it easier and more fun. Make sure to order pizza to feed them and say thanks!
7. Check with your town. Some towns do have rules about yard, garage and estate sales. Make sure you know what they are before hosting your event. Furthermore, some cities and towns require permits to host a yard sale or garage sale, and require notice, so make sure to find out well before hand if you need to get one and when.
Here's to your successful sale! Have any other tips to share? Do tell!
Charlene DeLoach is a blogger at CharleneChronicles.com and the Team Lead for Blogger Bash 2016. Her goal has always been to write a book, and she hopes to achieve that in the year ahead. (Anyone know a good publisher? Tweet her at @CharleneDeLoach!)