by Karyn Ravin, Maletzky Media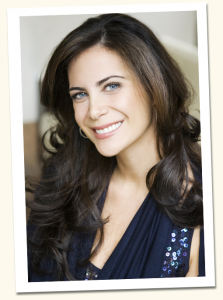 Lyss Stern is a diva and proud of it. She wears many hats, but is most well-known for founding Diva Moms, the premier network and event company for New York's most influential women. In addition to putting on countless Diva Moms events, Lyss can often be seen on TV, such as NBC's TODAY and Fox News programs, talking about the newest and hottest trends. The mom of three is also a co-author of the best-seller If You Give a Mom a Martini, where Lyss shares her expertise on moms' me-time.
Lyss is coming to Babypalooza at Blogger Bash this year, and we sat down with her to talk about what she is looking forward to and what is coming up for Diva Moms this year.
Maletzky Media: Why are you excited to attend Babypalooza?
Lyss Stern: I know that this year's Babypalooza event is going to be bigger and better than ever. There are so many incredible brands coming, and I can't wait to see all of the new products and trends coming out of this year's event. It's great to connect with other women and bloggers, and I love having the opportunity to meet with brand representatives face-to-face to see what they are seeing as the biggest trends!
MM: You have been working with baby brands for close to 15 years through Diva Moms. What has been your favorite part?
Lyss: I really love working with brands that are constantly launching amazing new products and designs to make parenting more fun and, of course, more fabuLYSS!
MM: We love your LYSST column in Social Life Magazine and FabULyssFinds in Manhattan Family Magazine. Can you share any writing advice with us?
Lyss: I love to write, but I struggled for a little in the beginning to find my voice. Once I did, I could not stop writing! For me, it was writing in a way that connects with real moms, like myself. Whatever your style is, embrace it.
MM: While you don't consider yourself a blogger, you are definitely a social influencer. Do you have any social tips you can share?
Lyss: Diva Moms has more than a million real moms around the country in our database and thousands of followers on our social channels because we know our audience. It is so important to gauge what type of post resonates with your following and then make sure to deliver great content that is relevant to your followers' everyday lives.
---
Want to hear more from Lyss? Connect with her on Twitter @divamoms, and make sure you say hello at Babypalooza on Day 2 of Blogger Bash!