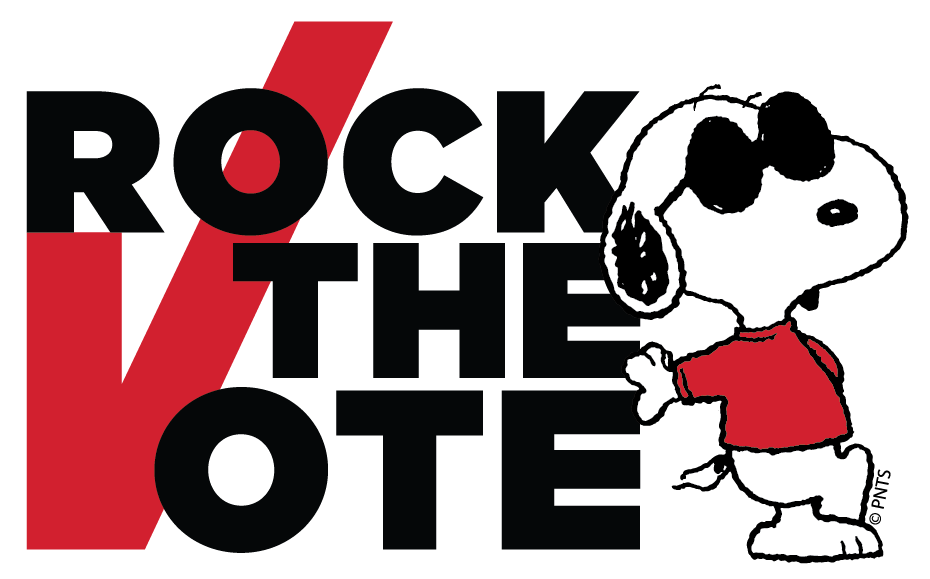 This is one of the most interesting election years ever, isn't it? There's a loudmouth candidate who offends almost everyone, a candidate who is all things to all people—even a candidate with some pretty revolutionary ideas…about the Great Pumpkin!
Of course we're talking about Lucy van Pelt, Snoopy, and Linus—just three of the six Peanuts characters (the others are Charlie Brown, Sally, and Franklin) who are running for President in a very special election! And you can cast your vote starting right now at peanutsrocksthevote.com.
The Peanuts election is part of a special partnership between Peanuts and Rock the Vote, the nonprofit voter education organization that encourages young people to register to vote. When fans go to peanutsrocksthevote.com to vote for their favorite Peanuts candidate, they can also link to Rock the Vote's custom online voter registration tool.
The Peanuts—Rock the Vote partnership is also coming to San Diego Comic-Con from July 21 to 24 in the form of "Peanuts Campaign HQ: 2016," a pop-up store featuring co-branded Peanuts and Rock the Vote merchandise and a host of fun activities for visitors. Fans can Instagram themselves into a campaign button; collect stickers; learn about the Charles Schulz Museum; and purchase colorful Peanuts election-themed tees, stickers, and buttons while interacting with Rock the Vote volunteers.
Democracy has never been so much fun! See the candidates below and click on the image of who you would vote for!