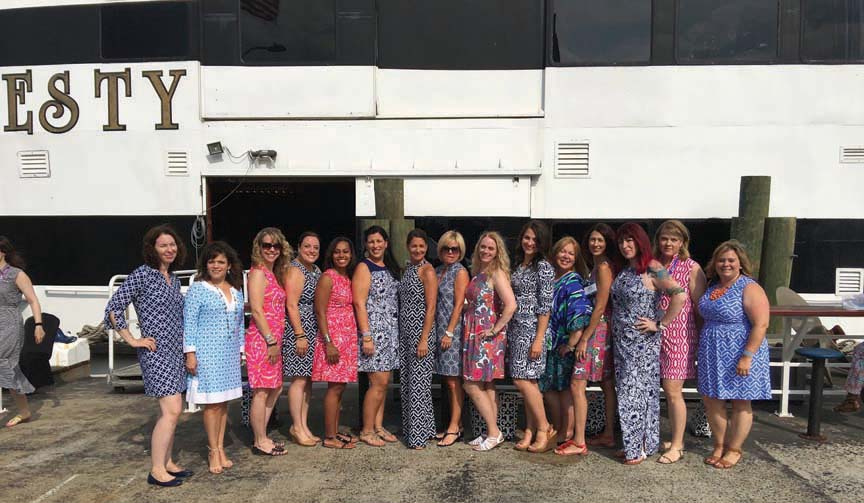 by Jenn Gaffney (Friendspired) and Stephanie Glover (A Grande Life)

Jude Connally made an impression at Blogger Bash a few weeks ago by styling the BBNYC ambassadors. Thanks to vibrant colors, bold prints, and a variety of styles, the brilliant outfits certainly made waves, garnering lots of attention from other attendees and even the brands on board.
Jude's team pulled out all of the stops to make sure that each ambassador felt beautiful and confident at Blogger Bash. Jude, Kacy, Mike, Tom, and Caitlin all put a great amount of effort into getting to know each of the ambassadors by scoping out their social profiles and clicking through their blogs to make sure they chose pieces that fit with each woman's personal style—and they nailed it. The team managed to successfully outfit more than 10 women with different body shapes, heights, styles, and more.
"At 4'10", it's often hard for me to find dresses I like, but I absolutely loved every one of the styles that Jude's team picked for me," said Monica Pruett, from Happy & Blessed Home. "I literally stuffed my Lisette Maxi Dress in my large tote when heading to NYC because I was paranoid of my checked bag getting lost. Luckily my bag made it, but really? All I had to do was shake out my dress and throw it on. It was wrinkle-free, kept me cool in the humid New York weather, and I got a ton of compliments on it," said Carol Jones, from All Mommy Wants.
Jude Connally's fashion line includes vibrant pieces with fits for every body type, from petite to tall, and slim to curvy. Especially great for busy moms, each piece is made from luxurious fabric that needs no special dry cleaning, you can just wash and dry. From fashion-forward rompers to maxi and mini dresses to mix-and-match separates, there are stylish options for everyone.
No matter if you are running to the grocery store or planning a trip to Bermuda, women on the move know that comfort is a must. Nothing can ruin your day quite like needing to pulling your skirt down every three seconds, or suffering through summer heat in fabrics that don't breathe. Jude Connally answers all of these issues, and a few more. Her pieces are made from a nylon and spandex blend, so they are breathable and super stretchy. Plus, some even have pockets—a coveted feature.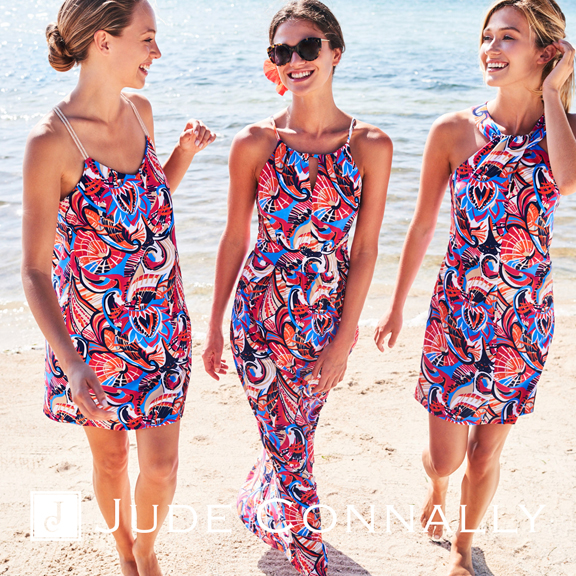 Jude Connally's inspiration to create a bold and beautiful fashion line for women came at an unlikely time: during a marathon. After spotting a colorful skort in a sea of black spandex, she decided to create a line of clothing for women that is both comfortable and stylish. Her mission was simple: "I set out to create comfortable, stylish clothing for myself and found that women were attracted to the simplicity and the fun that color mixed with classic styles brings. You really have to try an item on to understand the brand; there is a little bit of magic going on with the way women feel when they experience Jude Connally. The energy that develops when a woman feels good and has confidence in her style is contagious. Being able to share my energy with other women is what drives me."
You can find Jude Connally in more than 400 specialty boutiques across the U.S., or shop from the comfort of your own home at judeconnally.com and enjoy free shipping to anywhere in he U.S.