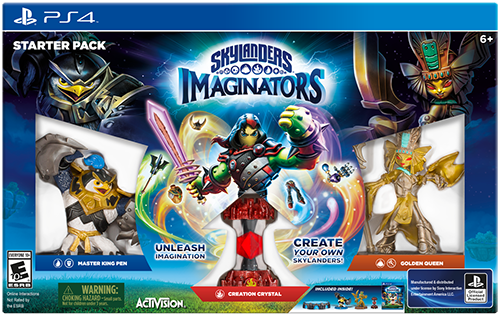 Calling all Portal Masters!
Sweet Suite's Title Sponsor Activision is giving away three Skylanders Imaginators Starter Packs for the system of your choice (plus some additional fun swag!) to the most creative Portal Masters out there. Activision will also select one grand-prize winner to win a video game console, plus the Skylanders Imaginators Starter Pack and Skylanders swag!
Since the inception of Skylanders®, kids around the world have imagined their own Skylanders characters. On October 16th, Portal Masters can unleash their imaginations like never before when Skylanders Imaginators hits store shelves! Skylanders Imaginators gives kids. Skylanders Imaginators gives kids immense possibilities—including appearance, powers, abilities, names, catchphrases, musical themes and much more—to create the wildest Skylanders imaginable and bring them to life for the first time in an all-new adventure. Since the newest game in the franchise is all about creativity, Activision is calling upon you and your family to create the perfect Skylander! It's easy to enter:
Download the Skylanders separates here (arms, legs, the works).
Color them in & cut them out.
If you're feeling extra creative, design your own Skylanders separates.
Create your own fun Skylander that matches that week's theme:
Week 1, June 27: Create a 4th of July-themed Skylander
Week 2, July 4: Create an animal-themed Skylander
Week 3, July 11: ANYTHING GOES!
Then, post on Twitter, Instagram, Facebook, and/or Pinterest and share your creation using the hashtag #CYOSkylandersGiveaway!
The giveaway runs from June 27 at 9 a.m. EST through July 13 at 9 a.m. EST. Winners will be announced during Sweet Suite 16 on July 13. You can see the full contest rules here.