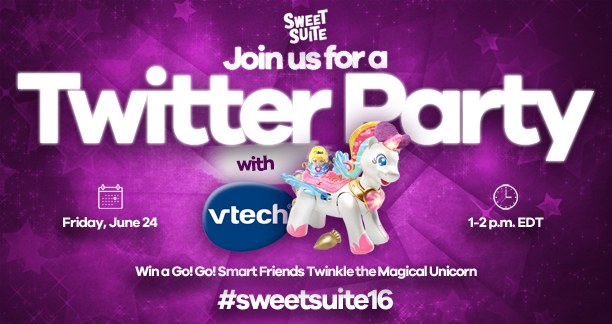 Blogger Bash will host a Twitter party on Friday, June 24 from 1-2 p.m. EST with Sweet Suite Title Sponsor VTech! Play to win magical new toys from VTech's award-winning Go! Go! Smart Friends line!
The Good Stuff:
VTech will give five winners a Go! Go! Smart Friends Twinkle the Magical Unicorn. One lucky grand-prize winner will win that prize in addition to VTech's Go! Go! Smart Friends Enchanted Princess Palace.
Kids can soar through the kingdom with Twinkle the Magical Unicorn from the Go! Go! Smart Friends world. Press the enchanting unicorn's button and she will walk forward, move her head, and flap her wings. Place the included MagicPoint character, Princess Prisma, on one of Twinkle's two MagicPoint locations to trigger delightful responses, sounds, motion, and lights. Twinkle also interacts with her carrot accessory. Toddlers can create a whole kingdom featuring princesses, princes, fairies, magical creatures and more with Go! Go! Smart Friends characters and playsets, like the Enchanted Princess Palace.
Kids can explore each magical room in the Go! Go! Smart Friends Enchanted Princess Palace. This epic palace expands to 4 feet long and has a variety of luxurious rooms, including a ballroom, music room, kitchen, bedroom, and observation tower. While exploring the palace with Princess Darla, place her on any of the five MagicPoint locations to experience her friendly personality, lights, and more. When Princess Darla sits at her MagicChat tea set table with a friend (additional characters sold separately), they will interact by chatting and singing with each other. The palace also has a clock with a movable hand and three light-up buttons that introduce words, colors, letters, and numbers and play magical melodies and sing-along songs.
Be sure to follow @BloggerBashNYC and @vtechtoys, and join in the fun clicking the RSVP button below:
The fine print: This Twitter party is open to U.S. residents only. You must be 18 or older to play. You must RSVP AND participate actively in the party to be eligible for a prize pack.