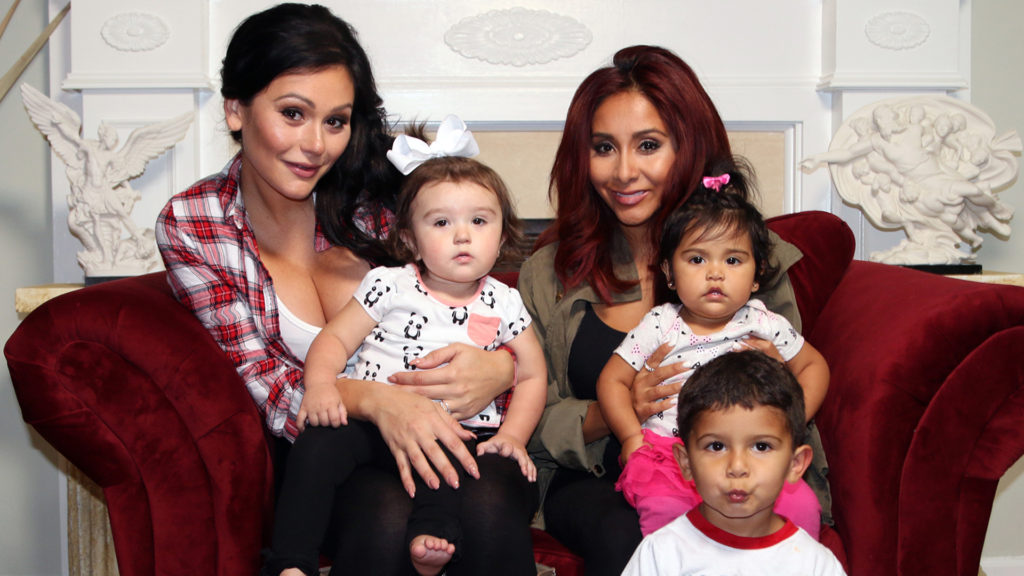 Blogger Bash is SO excited to welcome Nicole "Snooki" Polizzi and Jenni "JWoww" Farley as keynote speakers on Thursday, July 14. You may remember them better as best friends Snooki and JWoww, two of the party girls on MTV's Jersey Shore from 2009-2012. But they're all grown up now—they're moms, entrepreneurs, wives, and some seriously badass ladies, and they're coming to talk to you about being moms in the media spotlight. The panel will be moderated by Sarah Penna, head of AwesomenessTV's Awestruck Network.
So what have they been up to since the J Shore? After Nicole and Jenni left the Shore, they landed a new reality show in 2012 called Snooki & JWoww. The showed followed them as they transitioned from party girls to financés, wives, and mothers through 2014. In 2015, they partnered with Awestruck, a lifestyle entertainment brand for millennial moms, for their new weekly digital series, Snooki & JWoww: Moms with Attitude. The series chronicles the two ladies on their journey through the crazy world of motherhood and airs on Verizon's go90 and Awestruck's YouTube channel. According to this trailer, it's everything we want it to be and more:
Check out Nicole and Jenni behind-the-scenes of their show with guest star Anne Burrell:
Want to know more about Nicole and Jenni?
Nicole Polizzi is a New York Times Bestseller with her books: A Shore Thing [2011, Gallery Books], Confessions of a Guidette [2011, Gallery Books], and Gorilla Beach [2012, Gallery Books]. Nicole's fourth book, Baby Bumps: From Party Girl to Proud Mama, and all the Messy Milestones Along the Way, was released in December 2013 [Running Press]. Her most recent, Strong is the New Sexy: My Kickass Story on Getting My 'Formula for Fierce,' was released on October 13, 2015 [Running Press].
Nicole has become a bonafide brand that includes a signature apparel line "SnookiLove," footwear/slippers, perfume, sunglasses, cosmetics, jewelry, headphones, phone/tablet accessories, handbags, apps, hair products, and tanning products. She has also become and advocate for healthy living & staying fit for moms of all shapes and sizes. During the summer of 2014, Nicole launched her first podcast, Naturally Nicole, with PodcastOne, which features discussion on everything from the joys of messy motherhood to the hottest topics in pop culture with off-the-cuff commentary that most people would only dare to say in their heads.
In 2016 Nicole returned to television, this time with her husband Jionni, for their new original series on FYI, Nicole & Jionni's Shore Flip. The show follows the couple, along with their family and close friends, as they undertake their first business venture into flipping a home together. Nicole currently lives in New Jersey with her husband, Jionni LaValle and their two children, Lorenzo and Giovanna.
Jenni Farley partnered with Australian Gold in 2011 and launched her own tanning lotion line, which has seen international success. Jenni has also been working with 310 Nutrition for the last two years and recently launched a new site—MissDomesticated.com—where she is the editor-in-chief.
In September 2012, Jenni and long-time boyfriend Roger Matthews announced their engagement. Jenni gave birth to their first child, Meilani Alexandra Matthews, on July 13, 2014. Jenni and Roger married in October 2015. At the wedding, they made a surprise announcement that Meilani would be a big sister. Jenni and Roger's wedding was "Google's Most Googled Wedding" of 2015. Jenni and Roger welcomed baby number two on May 5.
Along with being a mother of two, a wife, and an entrepreneur, Jenni is also heavily involved in the Pick Your Paw Rescue foundation. This foundation helps rescue dogs from local-kill shelters and finds them new forever homes. Jenni strongly believes in animal rights and loves being able to contribute in any way she can.