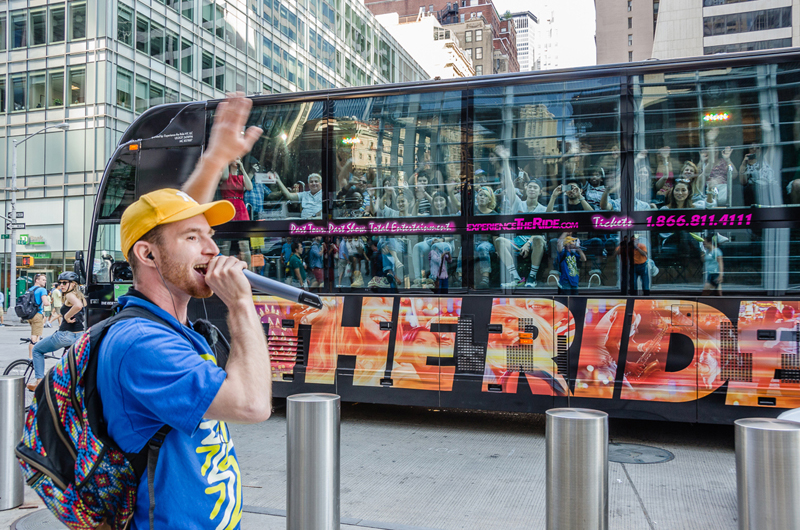 The Ride is coming back to BBNYC on July 13 to give two sets of 49 bloggers a chance to experience the theatrical show on wheels! These motor coaches seat stadium style along a Manhattan route, and guests can enjoy everything from trivia to karaoke on board in between viewing performance acts on the city streets.
Each ride will pick up Blogger Bash attendees at 42nd Street and 8th Avenue in front of the Señor Frogs restaurant. The first ride will pick up guests at 12:30 p.m. and drop them off at the pick up location. The second ride will begin at 2:00 p.m. and will drop off at the Majesty Yacht, Pier 81. Don't worry, bloggers attending the second ride will be back before Sweet Suite begins!
Guests will have front row seats to the streets of NYC as a stage for a 75-minute interactive entertainment experience of Midtown Manhattan and Times Square. The Ride features five to seven street performances, two award-winning hosts, trivia, karaoke, and more! You'll get to escape the heat of the summer and sit in climate-controlled comfort in this bus that sits stadium style, side facing seating with a panoramic view. The Ride also features advanced audio/visual technology, 3,000 LED lights, 40 plasma screens, and surround sound!
Click here to learn more about The Ride, and follow them on Twitter and Instagram!
Please note: This is a first come, first serve opportunity. If the time slot you signed up for is full, we will contact you and offer you a spot on the other time slot, only if space is available.