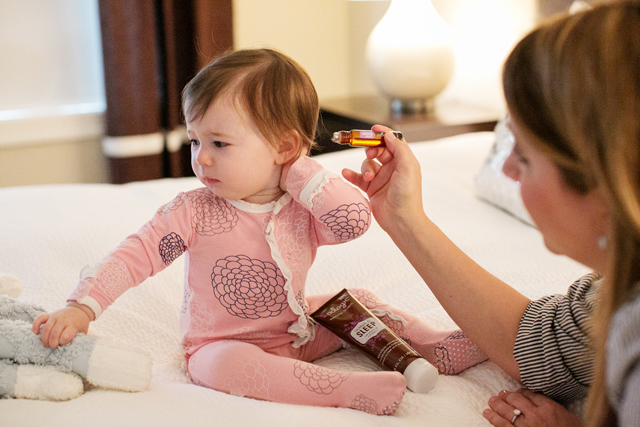 By Dr. Maura Henninger
Essential oils can help with a variety of common ailments and have moms asking, "How can I use essential oils for my whole family?" To get the low-down on everything essential oils for kids, I turned to two moms, Jordan Morrow and Worth Anne Herrell, who recently created Oilogic, a new essential oils product line for babies, toddlers and kiddos that takes all the guesswork out of using essential oils.
As it turns out, essential oils are used for far more than just their scents. Essentially (pun intended), these are the kind of oils that are extracted directly from plants. They're actually packed with tons of benefits and are often called "nature's medicine." This all sounds good, but as Morrow explains, "Essential oils are powerful and beneficial for moms to use on their children, but they MUST be diluted with the appropriate carrier oil, like jojoba or castor oil. This is especially important when using these oils on your children. Diluting the essential oils can get tricky; but done correctly, the benefits are endless. If you want to save yourself the guesswork, opt for product lines that specialize in diluting essential oils the right way. Oilogic even comes pre-mixed and diluted so all you need to do is apply."
What common problems can Essentil oils ease? Here's a guide to some of the biggest mommy headaches and which kinds of essential oil blends can help your kiddos feel better.
Stuffy Nose and Cough Relief
Kids are good at bringing back runny noses after a long day at school. If you or your child is suffering from a cold or a groggy cough, the Stuffy Nose & Cough Roll-On from Oilogic combines the right level of essential oils, including lavandin, orange, fir needle, eucalyptus, and cypress, with carrier oils like jojoba and castor to safely soothe cold symptoms. Oilogic's Stuffy Nose & Cough Essential Oil Vapor Bath can also help. Many people use combinations of essential oils to breathe more comfortably when they are experiencing congestion. By incorporating the oils into a warm bath, the effects of the product are amplified, providing even more comfort.
Restlessness No More
When your toddler is overstimulated and throwing tantrums in public, relaxation seems like a faraway fantasy. Oilogic's Relax & Calm Roll-On blends several essential oils, like sweet marjoram oil and chamomile with jojoba and castor oil to help soothe a restless child and even a cranky adult who's had a long day at work. "The Relax & Calm Essential Oil Roll-On can be applied to the back of the neck, chest and bottom of feet, allowing your child to breathe in calming essential oil vapors safely," says Herrell.
Cure The Bedtime Blues
We wish that kids had the same appreciation for a good night's rest that adults do. From infancy through elementary school, many kids dread bedtime. As toddlers, they fuss and stay at attention around bedtime. When they reach school age, they make excuses and lollygag when it's time to go to sleep at night. But thankfully, there's an essential oil blend to make bedtime easy. The Oilogic Slumber & Sleep Roll-On uses the natural power of lavender, chamomile, bergamot, mandarin, orange, and grapefruit oils, and then safely diluted, to naturally relax kids (and adults) into a quiet slumber.
Itchy Mosquito Bites
Huge, irritating mosquito bites: one of summer's major pitfalls. For kids, it's more difficult to resist the urge to constantly scratch. Oilogic created an easy-to-apply roll-on for those itchy areas. Bug Bites & Itches Essential Oil Roll-On soothes itching while naturally moisturizing, and it's safely diluted for use on your child. It uses lavandin, tea tree oil, and a unique blend of other comforting oils to get the job done.
Now that you know you can safely use essential oils for your whole family, give it a try. Let me know which of Oilogic's essential oil blends is your favorite on the Oilogic Facebook page. Comment your answer on this post for a chance to win something from their collection!
---
About Oilogic
Oilogic Essential Oil Care uses 100 percent Pure Essential Oils specifically blended and diluted for little ones, to naturally soothe common kid troubles. Founded by two moms who wanted the benefits of essential oils for their kids but feared the risk of improper use, the line aims to make essential oils safe for children. Oilogic blends are diluted properly within the blend and moisturizing carrier oils to provide a SAFE, yet effective solution for your baby or toddler.  All Oilogic Roll-Ons, Creams and Ointments are manufactured in Organically and OTC-Certified FDA Approved plants. The Essential Oils Oilogic uses are 100 percent Pure and contain NO Proteins. All Oilogic products are clean, natural, and free of sulfates, parabens, mineral oils, phthalates, dyes, and fragrances.They are DEA and Cal Prop 65 compliant. No animal testing is ever conducted. Products range in price from $7.99-$9.99 and are available at target.com, select Target stores, Buy Buy Baby, Meijer and online at www.OilogicCare.com.
MADE SAFE (Made With Safe Ingredients): Oilogic Essential Oil Roll-Ons and Boo Boo ointment are Made Safe certified, which means they are lab tested to ensure they are made with safe ingredients and free of toxins and harmful chemicals! Find out more at www.madesafe.org.