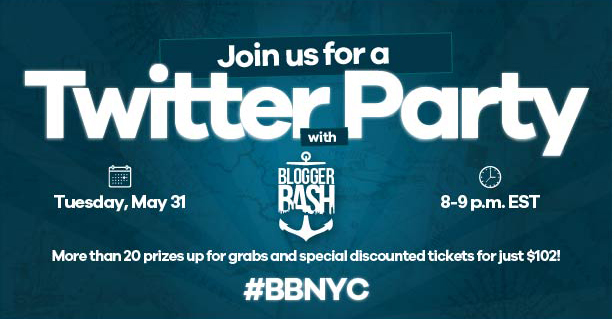 Blogger Bash will host a Twitter party on Tuesday, May 31 from 8-9 p.m. EST. We're giving away 9 prize packs from our amazing sponsors, full of the hottest summer toys, the coolest baby gear, and some amazing lifestyle products that will change your life!
The Twitter party is open to all digital influencers, even if you don't have a ticket to Blogger Bash (but like, what are you waiting for? Secure that ticket!) In addition to all of our amazing prizes, Blogger Bash tickets will be discounted to just $102 for the duration of the Twitter party, so if you or your friends have been waiting for a good deal, now is the time! Follow along for the special discount code!
During the party, learn all about the Toy Insider's Sweet Suite event, Maletzky Media's brand new Babypalooza, New Product Events' Expo, and so much more! Follow along using #BBNYC and enter to win some of these great prize packs:
The Good Stuff:
The Toy Insider will give away three boxes full of summer toys, picked straight from their Spring & Summer Gift Guide! Each box is worth more than $100, and features toys for kids of all ages and interests!
Maletzky Media will give away three prize packs:
1. Must-Have Gear: This prize pack features a pump, bottles, sippy cups, and accessories from Evenflo Feeding; Smart Noggin toys; two Cheeky Chompers; and a Can of Whoop Rash! from Boudreaux's Butt Paste
2. Baby Feeding: This prize pack features a $55 pack from NurturMe; Hello, Peanut! Braned First Years Utensils; a Fisher-Price 4-in-1 Total Clean High Chair, and three 14 oz. cans of formula and six packs of yogurt from Kabrita.
3. Mom & Baby Style: This prize pack features a watch from Armitron; a carrier from Baby K'Tan; an Oilogic Essential Oils pack; a $50 Zazzle gift card; and a Fresh Wave gift basket.
New Product Events will give away three prize packs:
1. Food & Fashion Prize Pack: This prize includes Eight O'Clock Coffee Dark Italian Espresso Beans; a Lunch To Go Pack (one salad and two sandwich containers) from Sistema; a Drink in the Box; an 8 oz pack of Aketta Cricket Flour; Triple Flip Girls' Power Tank & Flamingo Fusion Crop Leggings; and a CandyShell Clear Glitter iPhone 6 Case from Speck.
2. Family Fun Prize Pack:  This prize features an 8GB Picture Keeper Connect, a Finders Keep HerSafer Kit from Finders Key Purse; a Nerf Dude Perfect PerfectSmash Football from Hasbro; and a $100 Violet Love Gift Card.
3. Pamper Yourself Prize Pack: This last prize pack features a Shiatsu Air Pro Foot Massager with heat from HoMedics; a Summer Prize Pack from Boiron USA; and a $100 Coobie Gift Card.
Be sure to follow @BloggerBashNYC, as well as:
Blogger Bash sponsors
BBNYC ambassadors
The fine print: This Twitter party is open to U.S. residents only. You must be 18 or older to play. You must RSVP AND participate actively in the party to be eligible for a prize pack.