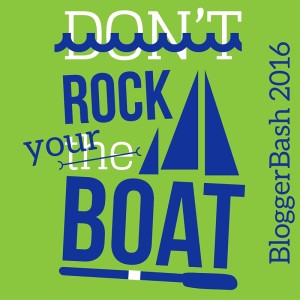 I've been planning and coordinating Sweet Suite since 2013. However, this year, I'm expanding my planning to Blogger Bash as a whole. Learning the ins and outs of event management, communicating with attendees, working with the ambassadors, and determining the content for the conference is daunting, and something I haven't done at this level before, but it is an opportunity to learn and expand my potential.
Is there something that you have always wanted to do, but are too afraid to just do it? It is the fear factor that can hold many of us back: the unknown, the potential of failure, and the horrifying question of "where do I begin?" Maybe you want to plan your own conference, write a book, create a new blog, or start a new service, but these things are holding you back. Here are five ways to get past all of those doubts and insecurities and achieve your goals.
1. Accept that you'll never be ready (and that it's OK).
I think the biggest deterrent for many of us is that we are waiting for the perfect time. Whether you're convincing yourself you'll have more time when the kids are older or in school, or that you need to gather more data, have more meetings, or read more self-help books, you'll never accomplish your goal if you keep putting it off. You have to have faith that you are ready. If you have the desire and determination to try, believe that your innate skills will enable you to navigate the unfamiliar waters and dive in! Believe in timing.
2. Understand that you'll make enemies (but you'll also make friends).
Whether you book a broadcast TV segment, a book deal, or the opportunity to plan a conference, you should know that not everyone is going to be supportive. Perhaps it is a family member, a friend, or even a colleague, but many people will not believe in you or believe in what you are doing. So, ask yourself, do you believe in your goal and yourself? If so, let the naysayers say what they want, and just focus on what you want to achieve. Along the way, you'll find new shipmates. Believe in yourself.
3. Remember: It's not about the result (it's about the journey).
Some people may never start writing the book, because they don't know if it will ever get published. Perhaps you haven't launched your product line because you don't know if anyone will buy it. Don't focus on the negatives or the "what ifs." Focus on what you will achieve as you try. Sometimes it is just as fun steering the ship as it is sitting on the deck. Believe in learning.
4. Stay open to other ideas (and other results).
Sometimes the large ship may seem the most desirable (tons of amenities!) but often it is the small ships that can change direction quickly. Perhaps your goal is to write a book. You finish your novel, but it doesn't get published. Instead of giving up, think outside the binding: publish it yourself, make it an e-book, or have it as a free download for subscribers. Believe in your goal.
5. Make your own opportunities (don't wait for them).
One of the biggest and most intimidating fears people face is the fear of being alone—and that is the same fear people experience when they are trying to achieve a goal. It always feels safer when you have a partner in your endeavors, but most of the successful people have partnerships because each can bring different skills to the table that are necessary in reaching the goal. So find like-minded people who want to co-author a book with you, be your PR person for your TV appearances, or do the legal work while you pound the pavement. Find your crew and start working together to set sail. Believe in partnerships.
What goals do you want to achieve, and what's holding you back? Share your story in the comments, because maybe another attendee has the same goal and you can work together. Or come to Blogger Bash, and get the inspiration and energy to finally accomplish that goal you've been dreaming about.
---
Charlene DeLoach is a blogger at CharleneChronicles.com and the Team Lead for Blogger Bash 2016. Her goal has always been to write a book, and she hopes to achieve that in the year ahead. (Anyone know a good publisher? Tweet her at @CharleneDeLoach!)