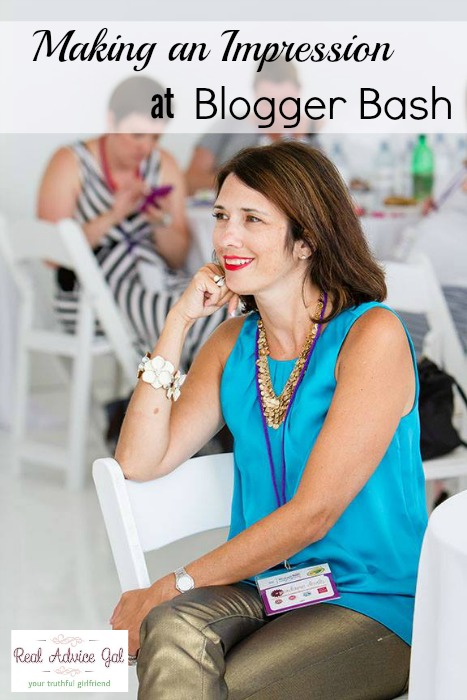 This is me a couple of years ago at Blogger Bash. You can tell I was engaged in the content being delivered by experts in the field. It is one of the reasons I have gone to all of the Blogger Bash events. Year after year, I've maintained ongoing relationships with the brands and the bloggers I met through this conference. I applied to the Blogger Bash Rock Star Program last year and was fortunate to have been selected to represent Blogger Bash as an ambassador in their first program.
This year, I am representing Blogger Bash in a new role, Lead Ambassador. I believe that I was asked to be the Lead Ambassador for several reasons: I was committed to being the best possible employee during my tenure as an Ambassador, completing every assignment and consistently helping on other projects. I felt that it was my duty to be my best and do my best when it came to making sure the conference went off without a hitch, so I came to work with a positive, can-do attitude. I delivered on all of the tasks asked of me—in fact, I over delivered. Not only did I enjoy the conference, I also sought opportunities to make sure that others were enjoying their time. I helped brands, and I engaged with bloggers.
I made it my mission to be the best because I wanted to work on the Blogger Bash team again. In 2009, I started my blog as a way to keep me honest when it came to saving for my children's college. I own Madamedeals.com, which I rebranded to Realadvicegal.com, because I am known for being honest. I am also known for my ability to work and develop a team. I believe every person brings value, and that communication is the key to success. In the last few years, I have built several other blogs, and I have helped numerous bloggers turn their passion into a paycheck. I know that a successful event is dependent on the people behind the event. I will be helping in the selection of the blogger ambassador team and I will be the person managing the team for the duration of the contract.
Here's a little more about me: 

The Brand Ambassadors for Blogger Bash will be the best representation of our blogging/vlogging world. We seek people who work hard, meet deadlines, and exceed expectations. We would like people who can write (or record!) compelling content and deliver it in a unique way. We want people who are great at sharing and encouraging others to attend the conference. We also want people who will encourage and help people while they are in attendance at the conference. We want people who are ready to exemplify the Blogger Bash community and project that it is a place where bloggers and brands are valued. We are looking for people who are great hosts/hostesses. Do you have the ability to make others feel welcome? Do you have the drive to make this voyage the best yet? Get on board and fill out our application!