by Kelly Comboni, CMO, LeftField Media

Looking to take your blog, vlog, or even Periscope to the next level? Look no further. A digital content and creator convention is coming to the East Coast, and it will give digital influencers the chance to meet, get inspired, and enhance their content.
Digital creators, fans, and industry professionals will come together in the Big Apple at Stream Con, which will kick off on Friday, October 30 at the Javits Center. The stand-out event during this three-day experience is the Creator Camp, a hands-on workshop designed for all types of digital content creators, including bloggers, vloggers, MommyTubers, toy reviewers, pranksters, comedians, family content producers, musicians, parody creators, fashion enthusiasts, beauty bloggers, gamers, and more!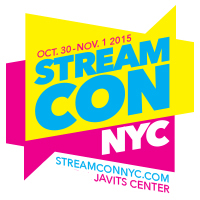 The Creator Camp is perfect for digital influencers of all levels, teaching creators about topics ranging from monetization strategies, working with Multi-Channel Networks (MCNs), marketing and content development, cinematography, production, and more. This hands-on program for aspiring creators is designed to take you, your brand, and your channel to the next level.
Tap into industry experts and successful creators who share their expertise during panels, workshops, and interactive Q&A sessions. Learn about production, editing, growing your audience, engaging with your audience, collaboration, networking, charity, contracts, sponsorships, lawyers, and MCNs. Click here to take a deeper look at all the Creator Camp at Stream Con has to offer.
Stream Con's Creator Camp will also include networking time with industry professionals, MCNs, book publishers, advertisers, and licensors – you never know who you may meet and what that may lead to! We recognize the pressure many creators are feeling as an influencer, and we want to give you direct access to the people who can help bring you to the next level.
Stream Con will also feature events for the passionate fans of Internet stars. And, all Creator Camp attendees have access to all of the fan-based events Stream Con has to offer! Starting Friday afternoon and continuing throughout the weekend, join the 10,000-15,000 fans attending our events designed just for them.
Stream Con has so much to offer digital creators of all kinds, including allowing them to gain access to famous YouTubers and digital creators. Secure your ticket and experience VIP access opportunities, panels sessions, screenings, Q&As, book signings, a Halloween Party, entertainment in the Vimeo Theatre, and much more to be announced in the next few weeks!
Check out who will join us and buy your tickets now!
---
As a friend of Blogger Bash, use code Blogger01 for a 10 percent discount toward any Stream Con ticket purchase, including the Creator Camp, Fan Ticket, or a Three-Day Pass!