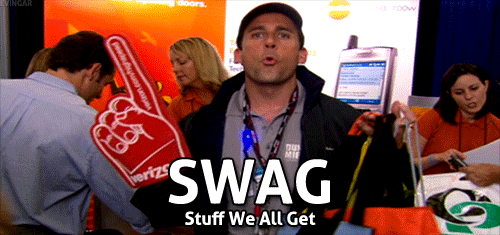 There's a 12 pound box full of toys, promotional goodies, and press info coming your way from the Toy Insider and some of the awesome sponsors at Sweet Suite… so what are you going to do with it?
Swag is meant as much more than a "thanks for coming." Companies spend a lot of time and energy figuring out how to woo you with your swag boxes, and it's the perfect opportunity for you to show those PR reps exactly why working with you is a great investment.
While your swag is totally yours and you can do whatever you want with it, here are a few great suggestions on how to think like a PR person and catch the attention of the toy companies—especially those you haven't worked with yet, but hope to in the near future!
Film an unboxing video
Unboxing videos on YouTube generate hundreds of thousands of views—just like one of our favorites from Mommy and Gracie Show! Set up the video camera, or even your iPhone and record yourself taking each item out of the giant box of goodness. Tag things like "unboxing" "surprise," "mystery," and "toys," which are all extremely popular buzz words! It's a great way to get more exposure on your YouTube channel, and a great way to utilize everything in your swag box, even if there are a few things in there you normally wouldn't review or use.
Don't forget—YouTube is no longer the only video outlet! Take the fun to Periscope as well, and always use #sweetsuite15!
Pick Three
Will you review everything in that swag box? Unlikely. There's lots of different things in there from all different types of toy companies, so you probably won't think EVERYTHING is spectacular, but you'll definitely find a handful of products you totally love.
Choose your top three favorite items to review, or break the products into three groups of similar toys to do a few different reviews based on a theme, like "games," "role-play," and "STEM." Three is a realistic number, and it's great to show extra love to your favorite companies who you definitely want to work with once the holiday season rolls around. Whether you are a blogger or a vlogger, a good, honest review goes a long way with brands.
Check out Ali's tips for reviewing if you need some guidance! 
Take photos
Instagram, Twitter, and Facebook are extremely important social media platforms (duh) and brands are watching to see what kind of coverage they get out of Sweet Suite. Show them you are super excited for your swag by posting photos on these platforms using #sweetsuite15. Including a personal memory from the event or discussing how excited you are to give the product a full review is always a great touch!
Get the kids involved!
They couldn't come to Sweet Suite with you, so the least you can do is share the swag with them… right? Don't hide your Sweet Suite awesomeness in the closet until Christmas, let your kids pick out a few things and help you with your reviews, photos, and unboxing videos. No one (not even us, the toy experts) have better opinions about toys than kids—but I am sure you know that already.
Share Your Coverage!
Once you've finished your reviews, videos, taken your pictures, etc. be sure to e-mail your coverage to the brand reps (and add it to our LinkUp). They will be thrilled to see that you took the time to appreciate the swag they included in the Sweet Suite box, and it will leave you top-of-mind with them for sure. A company is way more likely to work with you (and compensate you, if you're into that) if they have proof of what your coverage can do for them.
Hey now, toys are meant to be played with, and ultimately the point of your swag box is to enjoy it, but be sure to take advantage of all of the exciting opportunities it offers. Strut your digital influencer stuff, and make an impression.