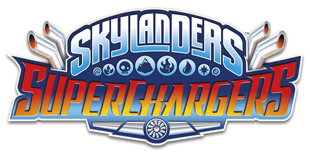 Sweet Suite Title Sponsor Activision will get Blogger Bash attendees up close and personal with the latest installment to the Skylanders franchise: Skylanders SuperChargers. Best of all, we're supercharging excitement with an awesome giveaway. That's right, there's four Skylanders SuperChargers Starter Packs up for grabs, plus one Grand Prize package with a Wii U, SuperChargers Starter Pack and bonus Skylanders swag!
All you have to do is put your favorite Skylanders characters in motion!
How to Enter
Step 1: Take a photo of your favorite Skylanders character in motion based on the photo task of the week! Use a figure you already have, or print out one of the new characters! If you're on the move, be sure to have your Skylanders figure ready and snap a pic. Get creative!
Step 2: SHARE IT. Once you've captured the perfect picture, share it on your favorite social media account(s), like Instagram and Twitter using the hashtag #SkylandersToGoPromo. You must use the hashtag in your post for your entry in the contest to be valid. Also, feel free to tweet @BloggerbashNYC and @SkylandersGame! (There is no limit as to how many photos you may enter).
Step 3: Cross Your Fingers. There will be four Skylanders SuperChargers Starter Pack winners total, plus one grand prize winner who will receive a WiiU + a  Skylanders SuperChargers Starter Pack + additional Skylanders Swag!
***If you do not already own a Skylanders figure, you may use a Spitfire or Hot Streak cutout for your photos.
Weekly Tasks
Week 1: June 24-28
Rev it up! Snap a pic of your Skylanders figure or character cutout buckling up for a fast ride! Whether he or she is in the drivers seat, passenger seat, or car seat, show us how your favorite Skylander is ready for life in the fast lane!
Week 2: June 29- July 5
Take it to the tracks! Take a photo of your Skylanders figure or character cutout riding the rails! Have him or her hold on tight to a subway pole, gaze out of a train car window, or clutch a train ticket to their next destination! We want to see how your favorite Skylander is ready to go full steam ahead!
Week 3: July 6-12
Up, up, and away! Snap a shot of your Skylanders figure or character cutout in flight! Whether he or she is boarding an airplane, riding on the back of a toy drone, or getting ready for liftoff in an original vehicle your kids create, we want to see how your favorite Skylander is ready to soar!
Bonus: July 13-14
Make a splash! Take a pic of your Skylanders figure of character cutout on the high seas! Have him or her board a rubber ducky in the bath, surfing on a dinner plate in the sink, or going for a real life ride on your family boat! Show off how your favorite Skylander is ready to get wet!
All winning entries will be displayed at the Skylanders lounge at Sweet Suite on July 16! Additionally, all contest participants are encouraged to print out their entries to post on a special chart and receive extra swag at the event!
Now that you have the giveaway rules, keep reading to learn all about Skylanders SuperChargers!
---
Skylanders fans, rev you engines! Activision, the trailblazer behind the toys-to-life category, revealed the latest installment to its mega popular Skylanders franchise: Skylanders SuperChargers. Expanding on the brand's signature gameplay, Skylanders SuperChargers introduces never-before-seen vehicles-to-life.
For the first time, kids can explore and navigate Skylands' mountainous terrains, deep-sea environment, and big blue skies in highly stylized vehicles that kids can play with in the real world and bring to life in the game via the new Portal of Power. These tricked-out vehicles are aligned by element and terrain type, giving players unique abilities and diverse experiences across different settings throughout the game. The real-world vehicle toys will even feature movable parts, so kids can play with them outside of the game.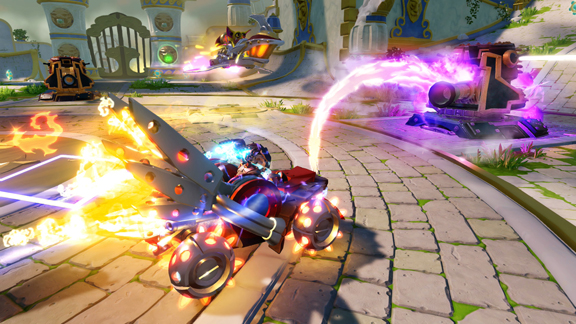 Read more on the Toy Insider blog!
Click here for the full list of giveaway rules and guidelines.