by Destiny Paquette, Suburban Wife, City Life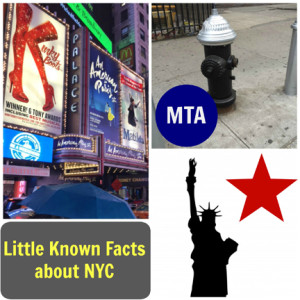 When people think of New York City, everyone has something unique or special they want to see, do, or share. When I first moved here, I wanted to learn everything I could about this awesome city. I've done tours, read books, and eavesdropped on enough tours that I thought it would be fun to share some little-known facts about NYC before you head to the Big Apple for Blogger Bash!
Lady of the Harbor
A landmark for America and New York City, her lantern burns bright, but people often don't know that Lady Liberty is not really a New Yorker. That's right—the Statue of Liberty technically resides in New Jersey. Due to a unique agreement that dates back to 1834, Lady Liberty stands in New Jersey waters and has a New Jersey address.
Shop 'til You Drop
The flagship Macy's store in Herald Square is billed as the largest store in the world. Boasting more than 2 million square feet, it nearly covers an entire city block. A must for anyone who loves to shop while visiting NYC, I love riding the wooden escalators and getting lost in this store. Fun fact: As you walk through any Macy's, you'll see the red star they use as part of their logo. This was actually a tattoo R. H. Macy got as a teenager.
Give My Regards to Broadway
When people think of going to a Broadway show, they immediately think Times Square. Technically, a Broadway show is anything between 42nd and 54th Street, though there are some exceptions. But, it's really about the number of seats in the theater: To be classified as a Broadway theater in New York City, it must have a minimum of 499 seats.
Stand Clear of the Closing Doors
The MTA gets New Yorkers and tourists alike where they need to go, and while the trains aren't on an exact schedule, they run pretty sufficiently. You may think the doors close pretty quickly—and they do—but the doors must remain open for a minimum of 10 seconds after the subway stops at a station. Depending on the station and number of people, it might be a little longer. Just remember: Let people off the train before you get on, you've got plenty of time!
No Parking Zone
Between 1980 and 2000, New York City had more than 2,000 inoperative fire hydrants (between 34th and Battery Park), all of which had the sole purpose of generating revenue in parking fines. As someone who has looked for a parking spot before, this is the most annoying thing. The next time you walk by one, take a closer look and see if you can figure out if it works or not.
Ice Cream: An American Classic
When immigrants first traveled through Ellis Island and came to New York City, they were served ice cream as part of their very first American meal. With Blogger Bash taking place in the middle of July, take a little time to grab a cool treat and think of your ancestors.
So there you have it, six little-known facts about the Capital of the World. As you walk around and enjoy the "big city," remember Manhattan is actually less than 23 miles. Take a moment to look up, down, and all around, because you never know what fact or piece of history you'll discover.
---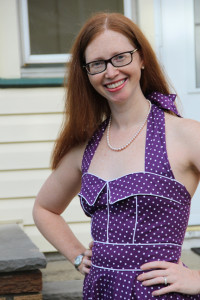 Destiny Paquette runs the blog Suburban Wife, City Life. She is mom to two adorable and fun kids, and wife to Mike. Destiny works full-time in the city for Blue Man Group and lives in the suburbs of New Jersey. She loves wearing and making dresses, random New York facts, talking about her family, and making new friends, so make sure you say "hi" at Blogger Bash!