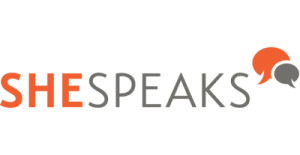 The Blogger Bash team is thrilled to announce SheSpeaks as the official media partner of Blogger Bash 2015!
SheSpeaks is a community of women who love to stay on the inside track of what's new and trending (sound familiar?). SheSpeaks gives women a voice, allowing them to share what they love and become an inspiration to other women. From blog posts, to the latest deals, to product reviews, SheSpeaks has it all—and now, you can watch as much as you read with SheSpeak's brand new YouToube channel, SheSpeaksTV.
The SheSpeaks TV YouTube channel features videos created by women, for women, with a specific target audience of women ages 30 and up—a currently underserved community on YouTube.
To best determine content for the channel, SheSpeaks surveyed more than 2,500 women in March. More than 80 percent of the women surveyed said that they watch multiple videos per week online, yet 60 percent reported that current YouTube channels were not relevant to them because of the nature of the content.
SheSpeaksTV not only aims to create awesome content for these women, but also lets members of this exact audience star in the videos.
The SheSpeaksTV team will be in attendance at Blogger Bash on July 17, ready to meet with you, hear your story, and tell you all about their YouTube mission. Plus, they'll be shooting lots of video content for their channel, conducting interviews, and sharing their invaluable insight during a panel session on videos and media.
Be sure to check out the SheSpeaksTV YouTube channel, especially one of our favorite videos on giving kids an allowance, featuring two Blogger Bash co-hosts Joey Fortman and Charlene DeLoach, and Blogger Bash party sponsor Rene Syler!