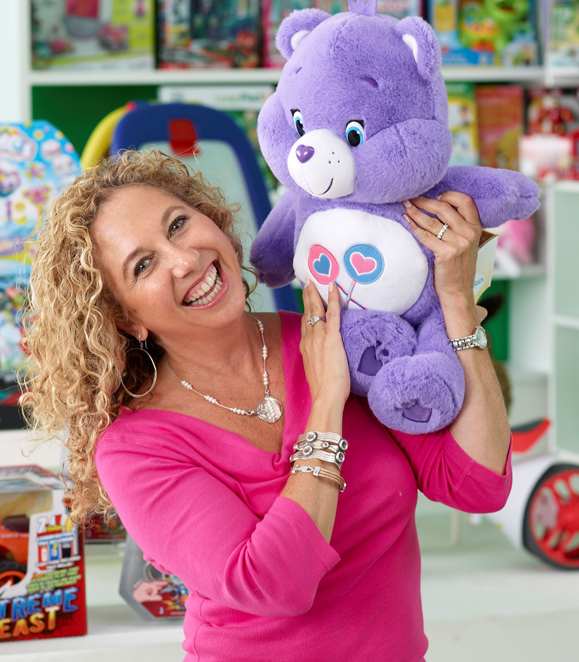 Laurie Schacht, known to the public as the Toy Insider Mom, has many other important titles, like "mom," "boss," and "wife," as her husband affectionately refers to her. A mother of three daughters, president of three companies, and a wife for almost 27 years, Laurie is the definition of a superhero—and, she does it all with a radiating air of positivity, strength, and steadfast commitment. But—how did it all start?
After graduating from Hofstra University with a degree in early education, dabbling in a few different industries, and starting a family, Schacht eventually settled in a career in publishing. As her family grew, she decided to become a stay-at-home mom, and even took on a new title: PTA president. As her kids got older, she went back into the work force, selling advertising for her father's toy and licensing magazines, of which she became publisher after a few short years.
From two business-to-business magazines, Laurie expanded her reach into the consumer industry and created the Toy Insider, a gift guide for parents and grandparents looking for toys for their kids during the holiday season. Now in its 10th year, the Toy Insider has grown into a full online resource for gift-givers, providing consumers with information, news, and toy reviews year-round. But, Laurie still had more to do.
With the emerging community of bloggers, Laurie saw how these men and women were so much more than average consumers, and she wanted to find a way to help them reach toy manufacturers in the most effective way possible. And so, Sweet Suite was born. An annual event that connected bloggers to toy companies, the legendary party eventually expanded into a two-day conference that helped these men and women connect with companies of all kinds—from baby to travel to food. Now in its second year, Blogger Bash continues to grow, and Laurie has never been busier.
I caught up with Laurie (who, incidentally, sits about 20 feet away from me every day) and asked her 20 questions that explain who she is, what she does, and why she founded this amazing conference.
What was it like growing up in the toy industry?
Only one word here…FUN! There was never a shortage of great games in my house, and I was one of the only kids allowed at Toy Fair, handing out copies of my dad's magazine Toy and Hobby World in every showroom in the toy building. It was such a magical place. And back then, it was filled with men—almost all men—in suits, testing out toys in the showrooms and hallways…what a hoot! My dad started out in the industry as a buyer, but once he became a publisher, toys were always in abundance!
What's the first toy you remember playing with as a child?
Barbie may not be the very first toy I played with, but she is the one that stayed with me for years. Looking back, I'm embarrassed to even think about how long Barbie was part of my life—and I guess she still is!
Back in the day, with no screens to distract kids, we all played for much longer. I really loved my jump rope, my pink Spalding, and my roller skates (complete with key), but even with all of that, there was still nothing that gave me more hours of play than Barbie (and, Ken, of course). My mom still has all of the Barbie clothes my grandmother made for me.
Did you ever think you'd own a business—or three?
Ha…no never! During my working years, I had always been in sales and publishing. Once I began having a family, it became challenging, though this is not the first business I started. For 10 years or so, I worked in magazines for the hotel industry, and my old boss had called me to help start a new business after my first child. I jumped in and helped create what is today, a very successful trade magazine—and I cried my eyes out every time I left my baby home to travel. Once I was pregnant with daughter No. 2, I knew that I needed my next job to be Stay At Home Mom, at least for a while. I've come a long way since then.
What was it like to be a female business owner when you first became CEO of the Toy Book?
It was not easy! For many reasons, when I took over The Toy Book for my dad, I was not quickly embraced—in fact I was not embraced at all. Then I brought on my co-publisher and partner, who knew the players and the industry much better than I did. In addition to The Toy Book and the Toy Insider, we also publish a magazine for the licensing industry, so I told him that he should focus on the toy side of our business, and I'll focus on licensing.
So much has changed. I never thought I'd be doing any of the things I'm doing today—and I thought I would need to be force-fed the toy world. Needless to say, I've discovered incredible people and incredible generosity over the years. When you work with a community of people that make and sell toys, you learn how wonderful and charitable they are. I know that I've earned my respect in this industry I have grown to absolutely love.
How are you treated in the toy industry as a woman today?
I am absolutely treated like an equal. I'm treated professionally, and I've also made some great friends. Even those who still don't like me (no matter who you are or what you do, not everyone will like you) know how hard I work for my business and for the industry as a whole and respect what I do.
How have you seen the industry change over the years?
No surprise here: It really is the introduction of all the new tech devices that has made the most difference in how the industry has changed. For a while, a lot of toy companies were trying to come up with Apple stories—big, standout stories that no one can touch. They were going above and beyond to try and figure out how to use tech in a way to make a toy appeal to kids—many have seen success, but many more have seen failure. This year, we are seeing a lot of "back to basics" toys, as well as STEM-related toys that incorporate some cool tech, but in a way that makes sense and help kids prepare for the jobs of the future. It's all pretty cool, actually!
What was the most exciting toy fad you've ever seen?
Ah!—Tickle Me Elmo, Beanie Babies, Webkins—I have seen them all! But Zhu Zhu Pets is one of the most interesting to me. This very little company, Cepia, had come to our office to show us these little toy hamsters. We liked them and thought they were cute, and we had them on our annual hot toy list, but come the holidays they were on fire! We couldn't believe the retail response. Kids were going crazy for these things, and I was showing them everywhere on TV because parents couldn't find them anywhere. We knew the toy was cute, but we didn't see this coming…no one did. And then, one year later, I saw Cepia's new line and I knew they were doomed. By the end of the holiday season, the fad was over and while they tried a new marketing take, it just didn't sell. Interestingly enough, robotic pets are a huge trend this year, so maybe Cepia was just a bit early, though rumor has it they may be back with something awesome.
What was it like raising three girls while owning your own business?
Really. Hard. The first years I had come back to work full-time, I was struggling to do a lot of fixing with the trade magazines and I founded the Toy Insider. I spent many nights crying to my husband that I couldn't do it. He was my rock and told me, "Yes you can!" He helped with carpools and pick-ups and all of the other things that had always just been my job to help get me through it all.
Even with his help, it had its ups and downs—I have one bad memory that really sticks out for me. Now, I was never in a hurry to give my kids a cell phone (still to this day, I won't buy any of them an iPad). Imagine how I felt when I came home one day to find that the woman who was supposed to be at my house at 2 p.m. to be home for my kids was not there. It was raining. My 8-year-old got off the school bus, walked to the house, and no one was there. She went to three neighbors in the rain, none of whom were home, and so she went to the backyard and waited under an awning for one of her older sisters. Do you want to talk about guilt? She had a phone in her hands in less than 24 hours.
Of course, there are also many great memories that were a direct result of my awesome job. Needless to say, they all got a lot of toys—even now! My middle daughter is a big-time Olaf fan. Best of all, all of my girls have shared the screen with me at some point, and there's nothing like being on TV with your kids.
What's the most important piece of advice you would give to multi-tasking moms?
Don't try to take on the world—that's not what makes you a superhero. You may think you think you can do it all perfectly, but you can't. Something will always take a back seat, but that's OK. Own that. Instead, just be the best mom to your kids that you can be—to them, no matter what you do, you're a superhero.
Sometimes work needs to be a priority, and sometimes family needs to be a priority. That's why when we go away as a family, I turn off every single device I own, and I keep them off! In those moments especially, my family becomes my focus. Ask my office—when I need to check-out, I tell them not to call me, EVEN if the place is burning down!
How do you think the world has changed for working moms today?
I think that many companies, like my own, know how important a great team is. Having a child (or many) should not mean that you have to stop working. My editor-in-chief showed up at my door scared out of her mind the first time she told me she was pregnant. She didn't know how she would manage it all and we talked about her spending a few days a week working at home. Thanks to all the technology and resources available to us today, having her work remotely a few days a week is essentially seamless. Her phone and computer are both directly connected to the office, so whether I dial her extension or someone calls in, no one would know she is not at her office desk. And since her second child is now almost 2 years old, we know the process is working well.
Women have changed the workforce and the world, but nothing is more important than the job of mom (and dad). So many companies realize this, and make changes to ensure all employees feel like they can make having a family fit in with their career goals. If my small company can do this (we are really surprisingly small), then any company can and should!
How did you come up with the name "Toy Insider Mom?"
We settled on the name Toy Insider for our guide, because that's who we all are: toy insiders. Our experience on the trade side of the toy industry gives us unlimited access to all of the most important and exciting new toys months (sometimes years) before they hit store shelves. When I started doing TV, I needed a name. Toy Insider was my brainchild, and I'm a mom. It was sort of a no-brainer; it just came naturally.
How did you first start playing with toys on TV?
Once our Toy Insider gift guide started gaining some attention, producers started reaching out asking me to do some TV appearances, since lots of news stations were looking for an expert to come in and talk about toys. I actually didn't want to do it at first. This was not something that was ever on my bucket list. First, I tried to push one of our outside trend experts to do the segments, then I begged my co-publisher to do it. Finally, the PR team we were working with said that it needed to be me. I was a mother, I knew the toys, and I needed to talk to consumers. So, I said OK. Hundreds of segments later, I really do enjoy it now!
Do you remember your very first TV appearance?
How could I forget? I was on iVilliage in Chicago (and I brought my youngest daughter since they wanted a child in the segment). There was a live audience and I was so nervous. It turned out good … I don't think great, but definitely good.
What's it like to be on camera all of the time?
I really don't know how to answer this … Being on TV and in front of people means I need to keep up with things more (like when I have to get the grey out of my hair). Though I've learned some great tricks from make-up artists over the years—like since I have curly hair, I can use eye shadow on my roots to carry me through a few extra weeks—some stations want me to have a very specific look.
Being in the public eye also makes me think when I use social media. It's a powerful tool, so I agonize over everything I post that is public. Even if a company, an airline, or a taxi service does something worth my wrath and I'd love to blast them for all the world to see, I take a step back, and I hold it in. Trust me: There are lots of lucky people/companies out there, ha!
The bottom line, though, is that I've become a bit of a ham. I am typically very shy in my private life, but in front of the camera, it's all about making good TV, so I'm OK looking like a fool (sometimes).
What's the worst TV gaff that ever happened?
OMG—there have been many! Sometimes, toys have crazy names that are tongue twisters and hard to remember—I always try to get them perfect, but it's hard. I recently I called Gund's Sleepy Seas Sounds & Lights Octopus the "Silly Silly Seashores Sounds and Lights Octopus." Almost.
But, the worst gaff happened on
the Today Show
. I was playing with Big Hugs Elmo in 2013, and I was doing the segment with Al Roker. I put Elmo right up to Al and said Elmo wants to hug you. And he said (on air) "it feels more like a mugging." I didn't get the joke, until I watched the segment. I shoved Elmo right in Al Roker's face—and I mean right in his face. I mugged him with Elmo. I was mortified! The next time my producer booked me, I said, "I'm so sorry, I can't believe what I did to Al!" She laughed, and told me they loved it and they were all hysterically laughing while watching it. I'm laughing (a lot) as I answer this question.
How has the rise of the Internet changed your business?
For better and for worse! Business happens in a micro-second these days, and the Internet allows us to deliver news and info to our audiences in a matter of seconds.
But, much of my businesses are based in print—and that world is rapidly changing. We constantly need to do more and more in the digital world, and it's a challenge to keep up. My companies, along with others, need to find ways to change with the times, or be left in the world of the dinosaur.
Why did you found Blogger Bash?
Because I'm crazy and needed more on my plate! All kidding aside, it really all goes back to Sweet Suite. I realized that bloggers, who have become so influential as a consumer "voice," would go to Toy Fair and be offended that toy companies didn't drop everything to talk to them. Being on the inside of the toy business for so long, I know that during events like that, each manufacturer's first priority is to meet retailers and secure placement on store shelves for their products. Even I (hah) have to step aside when a retailer walks into a booth. And, really, it makes sense. If the toy manufacturer's product doesn't get placement in a store, then they can kiss sales goodbye, regardless of what bloggers or press say or think about something. So, we dreamed up Sweet Suite, which is an exclusive event where bloggers could be the No. 1 priority to toy manufacturers. It gave both parties a chance to meet and connect in a meaningful, stress-free way.
As Sweet Suite grew, my fabulous team and I realized that this event (which once followed alongside another conference) could stand on its own, but we needed more than toys. So last year, Blogger Bash was born. Our goal is to connect top bloggers/digital influencers to brands in all kinds of categories, by giving them amazing and personal experiences with these brands. This is not your regular conference; it's not meant to teach anyone the basics of blogging. This is for professional bloggers who want to expand their connections, their businesses, and have a lot of fun.
Now that your daughters are older, what do you think the future holds for the next generation? Would you want them to own their own businesses someday or get into the toy world?
It's tough out there for today's kids, and I have no idea what the future holds for my girls. They all have a deep-rooted respect for hard work, and I make sure they know that my hard work is what has gotten them through college so dad can work on our retirement set up. There's nothing like owning and running your own business, but there are lots of pitfalls. When I took over for my father, I spent the first few years without a salary and putting up my own money to make payroll. I've made many, many, many mistakes along the way and they all cost money. But, I also now think of each mistake as a teachable moment (we are never too old for those). That even extends to my very first Sweet Suite event. I could have thrown a wedding for what it cost me, but again, a teachable moment. I simply needed to learn how to create this the right way, but knew we were on to something.
Owning a business is fulfilling but stressful. I don't think I could do this if I had a very young/new family. My baby was 8 years old when I jumped into this, and now, while I work harder and longer hours than ever, I don't have kids to get home to. And needless to say, my husband and I eat out—often! But when my kids are home, I take the time to be with them. It sometimes still feels like work is first, so I remind myself that when my kids are around, everything else can wait till the next day.
How do you think the toy industry will look in 10 years? What role do you think women will play?
Over the years, women have become a huge part of the toy industry, and they should be—after all, most of us are moms! There's an organization called Woman in Toys (WIT), that does so much to support women in this business. In fact they've even established a relationship with Wal-Mart that gives female toy inventors the chance to have one-one-one meetings with top toy buyers for the retail giant. It's a great organization that works hard to support women in this industry. With this much support and encouragement and growth happening now, I think there will be more and more opportunities for women to succeed in the toy business in 10 years.
Do you ever see a world ahead without toys?
Never, that would be the saddest day on Earth!