by Miranda Papandreou, Lemons and Laughs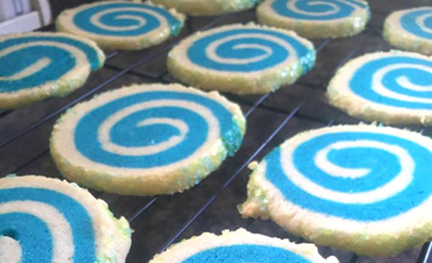 With Blogger Bash right around the corner, I decided to whip up something Blogger Bash-themed to express my excitement. With every week that passed, and every newsletter that arrived in my inbox, more sponsors and parties gave me new ideas for how to translate the event into food. When it was time to get down to it and actually create the recipe, I was overwhelmed with options! In the end, pushed all the fun announcements from the newsletters aside, and focused on my memories of last year's event instead.
The two days at Blogger Bash last year flew by in a blur, with friends, food, connections, and my tiny baby snuggled in a carrier. Sweet Suite kicked off the event with fun, drinks, and food. After bouncing around ideas for cocktails (anyone else remember those Lemonhead ones from last year?) and different varieties of candy, I thought a fun, sweet, and bright sugar-crusted cookie would be perfect.
This year, Blogger Bash attendees are getting an exclusive show while in New York, so I grabbed the blue food coloring to pay homage to the Blue Man Group. This pinwheel sugar cookie looks more difficult than it is to make. You can make this and impress people with your hard work, while knowing the cookies were actually a breeze! Though this recipe is a little bit time consuming because of the freezing and re-freezing of the dough, the actual hands-on portion of this recipe is surprisingly short!
What You'll Need
2 sticks (soft) butter
1 1/2 cups white sugar
3 cups flour
1 tsp. baking powder
1/2 tsp. salt
2 eggs
2 tsp. vanilla extract
Blue food coloring
1/2 cup sprinkles/coarse sugar
Directions
1. Cream the sugar and butter together in a large bowl. Sift together the flour, baking powder, and salt; then slowly add to the butter mix. Add eggs and vanilla extract, and mix on a low setting until a dough forms.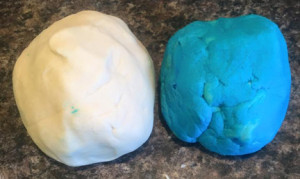 2. Roll the dough into a ball, then split in half as evenly as possible. Return half to the mixing bowl and mix in the blue food coloring. Roll the non-colored half of the dough between two pieces of parchment paper until its about ¼-inch thick. Roll the blue half of the dough between a different set of parchment, and refrigerate all of the dough for a few hours.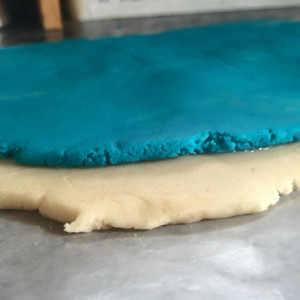 3. Remove both sets of dough from the fridge and remove from the parchment paper. Brush the un-colored dough with a little water, then line the blue dough on top of the un-colored so they are as even as possible. Do a fast, light press with the rolling pin to seal the dough together, and trim the edges of excess dough.
4. Brush your dough with water, and slowly roll the dough into a log from one end to the other as tightly as possible. If the dough tears as you roll, add a little water to your fingers to smooth the tear out, or take some of the corresponding colored scraps and smooth a small piece into the log to repair the tear.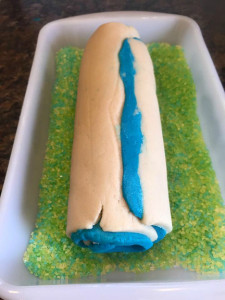 5. Lightly brush the outside of the cookie roll with water (last time, I promise) and roll in your sprinkles/colored sugar. I poured the sugar into a baking dish and rolled that way, but you could also pour the sprinkles/sugar on the counter and do it that way. Once the outside of the dough is covered, tightly wrap your dough in plastic wrap and freeze it for an hour.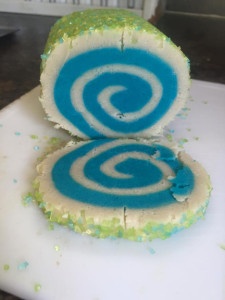 6. Preheat the oven to 350-degrees Fahrenheit, and remove the dough from the freezer. Using a thick, sharp knife, slice the cookies about ¼-inch thick and place each piece on a lightly greased cookie sheet. Bake in the preheated oven for 8 to 10 minutes, and then let them cool for about 5 minutes before transferring to a wire rack to finish cooling off.
7. Enjoy!
---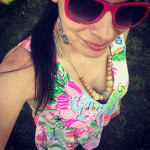 Miranda Papandreou is a vintage Pyrex-hoarding coffee addict with a weakness for designer purses and Toms shoes. When not chasing her pint-sized entourage around, she can be found baking at Lemons and Laughs.