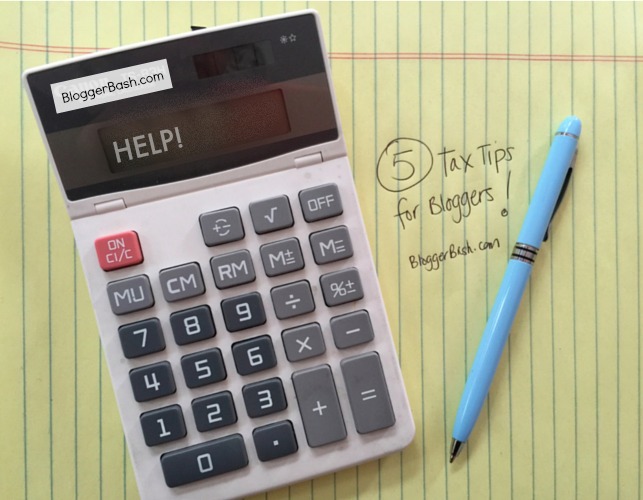 Filing correct taxes is an inevitable part of life and your business, and not a very fun blog post to read, I'm sure. We are only four months into the year so there is plenty of time to get tax savvy by the end of 2015. So, take a deep breath, know that this is not going to be a funny or savvy post, but, hopefully, a valuable one! Thus, in honor of spring, April, and tax season, here are five tax tips for bloggers:
1. Social Security Numbers. I've started getting a bit skittish about using my social security number. As bloggers, we often work with a lot of brands, and send off W-9 forms to a variety of places. To keep my SS number more secure, I got a tax identification number (TIN). You can get one even if you file a Schedule C on your taxes, and you can use it without having to have a DBA or LLC. Whether you should have a DBA or LLC is another post entirely, but you can use a TIN without one. Thus, controlling whom you give your SS number.
2. Control your W-9s. Whether you get a TIN or not, do not feel obligated to fill out a W-9 form to a brand that you know is paying you less than $599 in that year. It is another way to control the companies getting your personal information. The law only requires 1099s to be issued if the brand pays you more than $600 (in total) in a calendar year (at the time of this post). When you get paid less than that amount from one brand, you can keep track of additional income with documentation from your bank (copy of the check) or PayPal.
3. Use one credit card. Pick a credit card or identify one of your existing credit cards as your business credit card. You don't need a formal "business" credit card (where the card is issued in your business name); a personal card will do. Yet, be diligent about only using it for blogging expenses. For example, for the Blogger Bash conference, use that dedicated card to purchase your Blogger Bash ticket, your train or plane ticket, and hotel and restaurant receipts when in NYC for Blogger Bash. The benefit to having a dedicated credit card is that it makes it easier to track and file your taxes at the end of the year.
4. Keep track of mileage. You know all those blogging events you go to? Keep track of not only your tolls or parking fees, but your mileage too. MapQuest uses the IRS determination for mileage (convenient) so all you have to do is plug in your home and blogging destination to get round trip directions. Select calculate "est. fuel cost" option, and "reimbursement," in which MapQuest will confirm the mileage expense reimbursement is based on the IRS standard rate for 2015 of $0.575/mile.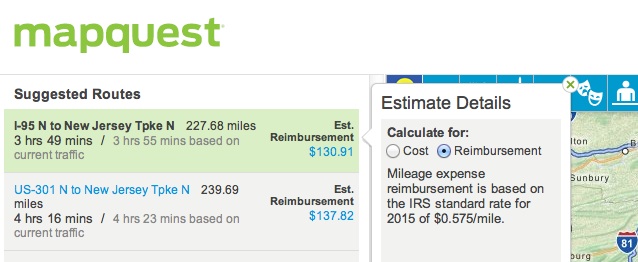 Print out the directions and you'll see, on the print screen, the "Trip to:" address, the number of miles, and the estimated mileage reimbursement, There will also be a box for "Notes". Make sure to add an entry in the "Notes" section to what your trip is for. For example, "Blogger Bash Conference." It will make it easier to remember at the end of the year why you traveled to 23rd Street and West Side Highway, New York, NY 10011 (the address, by the way of Pier Sixty, the site of the 2015 Blogger Bash Conference.)
5. Get paid more. Lastly, know that as a self-employed blogger, you pay more in taxes. Not only do you pay taxes based on your families' federal and state tax rate, but you also pay an additional 14 percent of social security taxes. If you work for an employer, they split social security taxes with you; most employers pay 7 percent and you pay the other 7 percent. As you are an employer and employee, however, you pay the entire 14 percent. Thus, anytime you negotiate your rate with a brand, you should account for your taxes. For example, if a brand offers you $50 for a sponsored post, you should know its much less earned income.
To give you an example, the effective federal tax rate for American taxpayers is 11 percent, according to an analysis of 2009 IRS data by the Tax Foundation. Then, you also have your state tax rate (which varies by state), but let's say 5 percent. Then you have the 14 percent social security rate. So that $50 for the post is effectively $35. So ask: Is that post worth $35 or $50? If the answer is the latter, then you need to be asking for $70 a blog post.
I hope that gives you some tax related ideas for 2015. What tax or financial tips do you have for bloggers?
Charlene is the Team Lead behind Blogger Bash. She wears many hats, like Communication Director, Sponsor Liaison, Event Manager, and Creative Director to name a few, while she juggles life as a Mom to two kids under five, as a Parent Advisory Board member to the Toy Insider, and writer for her own three blogs: CharleneChronicles.com, MetrowestMamas.com and CleverLuxe.com. You can tweet her at @CharleneDeLoach.
Charlene is a lawyer, but not a tax professional. In either instance, she is not creating a client relationship. You should speak to a certified tax professional before relying on any tax advice and implementing any financial or tax changes to your business.