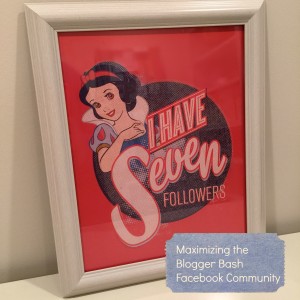 If you have been active in the Blogger Bash Attendees Facebook group, you know that I started a fun follow section a few times a week: a Twitter Tuesday, Facebook Friday, and Supportive Saturdays and Sundays.
Who doesn't love a boost in numbers, right? Yet, more importantly, it started with the hope for an opportunity to find new connections, new shares, new growth, and new friends.
One of the benefits of the smaller conference setting is the opportunity to really connect with other attendees, and an opportunity to learn from fellow bloggers. The #BBNYC hashtag on Twitter is a great way to chat and to connect, but once the conference is over, it can fizzle really fast. Plus, Twitter is only one avenue of conversation.
A Facebook group is an opportunity to share oneself beyond 140 characters, to have conversations with more than one blogger and beyond one RT. There is a common goal amongst us all to make brand and blogger connections due to the fact we are all going to Blogger Bash together. So why not make the connections amongst each other before the event?
Strengthening the community and supporting each other is a true indication of your willingness to strengthen your own reader community and supporting your own blog fans. If you can't invest in a fellow colleague, how can you say you are invested in your own followers? Build the foundation and then grow it; it applies to our blogging fans and our fellow bloggers. Snow White started with her own seven colleagues, and then now she is an empire in her own right. If she hadn't invested in her peers, where would she be?
I love how we are all participating and I truly hope those connections last; not a follow and dump scenario. Yet, beyond the follows, we are also encouraging attendees to RT or repin, comment or share if they have already followed a fellow online friend, to deepen the connections within the community because that's what we are: a community.
The fun follow posts is just one of the aspects of Blogger Bash that makes the cost of attending a little more justifiable, and worth the investment, even before you pick up your Blogger Bash badge.
Charlene is the Team Lead behind Blogger Bash. She wears many hats, like Communication Director, Sponsor Liaison, Event Manager, and Creative Director to name a few, while she juggles life as a Mom to two kids under five, as a Parent Advisory Board member to the Toy Insider, and writer for her own three blogs: CharleneChronicles.com, MetrowestMamas.com and CleverLuxe.com. You can tweet her at @CharleneDeLoach.