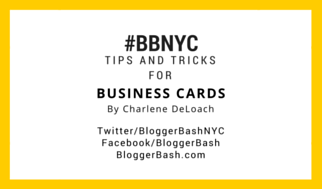 It seems odd, in some way, to focus on paper business cards when so much of our lives (professionally and personally) are spent in the digital world. Yet, despite our reliance on computers, tablets and smartphones, we still reach for our paper cards to connect with each other.
So as you plan for Blogger Bash, consider getting your first set of cards or sprucing up your old ones! Here are some business card tips from myself and your fellow Blogger Bash attendees.
1. Create a card especially for Blogger Bash. For example, I created a card for Toy Fair. The only difference with this card, compared to my regular card, is in the bottom right corner, I added the text "We met at Toy Fair 2015." This enables brands to remember who you are and where they met you. All you have to do is update that little section for each conference and print!
2. Use your headshot on your cards. It helps people remember who you are as well. Bonus points if it is the same headshot you use across social media platforms for great branding and consistency.
3. Use the same color codes. Even if you don't use your logo on your business card, know the color codes you have on your website. Having similar colors on your business cards as you do your blog creates consistency and provides brands with a feel for your blog.
4. Provide relevant information, but don't over do it. Definitely include the social media platform you use, but consider only using the platforms you use the most or where you have the most followers. Listing all 20 social media platforms where you have an account is information overload for brands. Stick with the basics like Facebook, Twitter, and Instagram. Consider adding Pinterest, YouTube, Vine, or other platforms if they are an essential part of your business.  @CharleneDeLoach When creating #ad business cards be sure to use both sides & not waste the space! #BBNYC
— Reesa Lewandowski (@mommalewsblog) March 9, 2015
  5. Use BOTH sides of your business cards— a helpful tip from a #BBNYC past and future attendee!
6. It doesn't have to be expensive. You don't have to hire a designer to create your business cards if your budget is tight. Services like Canva and PicMonkey make it easy to create business cards that fit your brand and your personality. There are also plenty of websites that have great deals on business cards. (Just don't wait until the last minute or you'll be hit with rush fees!)
 7. If you have more than one blog, have more than one card and hand out the card you think is the most relevant. Sometimes, however, when interacting with a PR firm, you don't know what clients they might have in their roster so one idea is to have a card listing all of your blogs, or places you can be seen, to show your reach and where they can find you.
We can't wait to see all of your cards and your faces at Blogger Bash! Do you have any tips and tricks to share? Leave a comment below or tag us on Twitter! #BBNYC
Charlene is the Team Lead behind Blogger Bash. She wears many hats, like Communication Director, Sponsor Liaison, Event Manager, and Creative Director to name a few, while she juggles life as a Mom to two kids under five, as a Parent Advisory Board member to the Toy Insider, and writer for her own three blogs: CharleneChronicles.com, MetrowestMamas.com and CleverLuxe.com. You can tweet her at @CharleneDeLoach.