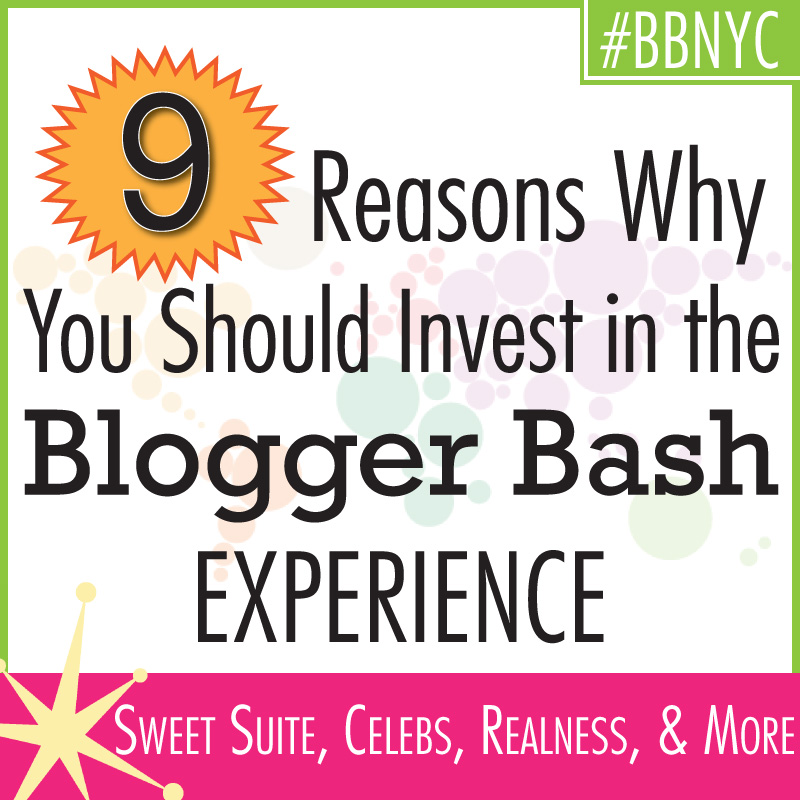 Now that I spent four days cooped up in my house with three boys and a male dog, I get giddy with the thought of summer with my GIRL(blogging) FRIENDS! I hope that you all know that I consider Blogger Bash a "girlfriends' getaway" weekend. (Same with Toy Fair. Just ask Charlene DeLoach—she knows the BEST hidden spa! We went on Valentine's Weekend. That's a blogger tax write off, right? LOL)
Anyway, we all know that being a blogger and going to conferences is a lot of work. But we all know that it's a lot of fun, too. And with the Sweet Suite Biggest Night of Play plus tons of other great experiences, Blogger Bash is one conference you won't want to miss!
LET'S GET THIS PARTY STARTED!
As someone who spent nearly $4,000 on my first BlogHer conference in San Diego in 2012, I know first-hand how expensive these events and conference trips can be. I also went to Blissdom, Type A, and others, spending a grand total of… wait for it…
$12,000 for JUST networking.
That's more than what some bloggers make in a year JUST on conferences. I can assure you though, my business blew up by attending these events. Yes, they cost a ton of money, but you really have to think about whether this 'blogging thing' is a career or a hobby for you. And, I hate to break it to you, you have to spend money to make money. The age old wisdom is true! I often meet bloggers who have been doing this much longer than I have and haven't even been to ONE conference and yet they can't figure out why they aren't getting the big opportunities.
Now, fast forward to today: I've got my hands into the whole conference-planning world and it's SUCH an eye opener! When I talk to these massive brands with six-figure digital buying power, I feel even stronger about why you need to invest in yourself. They are investing in us because they believe in the power of who we are and what we do. They invest in bloggers by sponsoring conferences to make it more affordable for us. So why would we not want to invest into ourselves some personal and professional growth?
NINE REASONS WHY YOU SHOULD INVEST IN THE BLOGGER BASH EXPERIENCE
1. This isn't a traditional conference. This is a mastermind? A summit? A PARTY? An Experience. Yeah, go figure. We work hard and play harder. Wee! We've got the Biggest Night of Play at Sweet Suite—go figure!
2. The space we're in is shifting. Are you ready? I don't know about you, but for me, my kids are growing older. Yes, I still have "mom blog life" left in my toddler but my 7-year-old is quickly leaving the window of opportunity if you will. And I know I'm not the only one. In fact, I have a feeling many of you are already grappling with the same thing. What do we do when our kids grow out of the product review stage? Don't know the answer? Then you best have a ticket to Blogger Bash, skippy!
3. The cost. Where else do you meet THAT many brands in ONE space over TWO days for under $200? Helloooo! We're cheap. We did that for a reason: Because we care. And because we want you to walk away with all the tools to land that sponsored post or working relationship! Think about it. $200 is the cost of a regular ticket—that's ONE blog post for many of you. Well worth it.
4. It's in NYC. Hello?!?!? Do you ever watch Ryan Seacrest on New Year's Eve? It's the BEST city in the world to throw a party!
5. Big names + small settings = opportunity. Of all the different conferences I've attended, there is always one thing that really defines if that experience was worth the financial investment for me: What did I get out of it? Was it a connection, a conversation, an experience? As a former radio personality in a major market, the perks being in radio go far beyond being on the air. The experience and opportunities are what made my career so successful. (And hopefully my talent sealed the deal!) I remember my times going to the now defunct Blissdom and I always walked out of that experience knowing it was an EXPERIENCE. Something above and beyond a conference. They had Rascall Flatts singing "Life Is a Highway"—are you kidding me? That was an experience. Not to mention when I got home and showed my kid the videos of it I had that connection to him by the movie Cars. It rocked and so did Rascall Flatts. So what does that big names in small settings equal opportunity really mean? You tell me.
6.) The Truth. So, what does that mean, Joey? It means that what you see is what you get with this event. We all got into this space for something, whether it be because you wanted free stuff, validity, or an opportunity to be who you really are in a group of outstanding, supportive, like-minded women. One thing you'll have no question about with our team is that we are real. We aren't conference planners (although we hired a GREAT one!), but we know what we personally want in our conference experience and we can assure you that what you get from Blogger Bash is above and beyond all things you'd expect from a traditional conference. I have personally been to about seven different conferences, and yes, I have my favorites. But I also have my mind well-equipped with knowing what I do and don't want from a conference. And as someone who has tons of "free stuff" over the years, the one-on-one conversations I've had with other women and brands are what keeps me coming back.
7.) Celebrities. We all love to rub elbows with people who have done extraordinary things in their lives. It's like osmosis! I've been blessed with 20 years in radio/TV where I've met hundreds of people who have done extraordinary things. (And some doozies of course! lol) Having a beer with the President in Chicago (Well, he was a senator then, does that count? Ha!), an acoustic studio show with Bono, shopping with Mariah Carey at the Mall of America, and dinner with John Mayer on a yacht are just a few that pop out in my memories. It was fun. But I can say wholeheartedly that being apart of Blogger Bash and seeing behind the curtain last year with Anne Geddes, one of the designers of MZ Wallace, and even the Mob Wives brought something to the conference like nothing I've seen before: intimacy. A chance to hear them tell their own stories. Oh, and can I say it was like hanging with a celeb having Jill Smokler, aka Scary Mommy, there too! We got to see and hear from women who have taken the adversity they have faced in their lives and made it more than they really are. That's a TRUE CELEB in my book!
8.) There is no better place to make an impression. Why yes, our moniker is "Blogger Bash: Make an Impression." I remember when we were talking about the event and brainstorming on what we want to bring out, and I believe it was Charlene who said we want attendees to feel comfortable enough to make the best impression. That's it. We all fight the good fight with agencies wanting us to show them our numbers, our google analytics, followers, etc. You become a number or lost in a hashtagged twitter stream or stand in line for an hour for lunch with thousands of bloggers crammed into a room. Blogger Bash is not THAT conference.
9.) Laughter and fun. When was the last time you did something that made you laugh? When did you step into a giant room with more than 60 toy companies where you put all your insecurities behind you and just played? If life has been tough and the real world has you stressed, pick up your kids' toys and just PLAY! There is so much that can be said about the way kids think. Remind me to tell you a little story about my first Sweet Suite experience when you see me. I laughed—until I cried.
So, what are you waiting for? GRAB YOUR LAPTOP AND GET THAT TICKET!