The North American International Toy Fair, hosted annually by the Toy Industry Association, is an enormous four-day trade show where press and toy retailers can get up close with toys coming out in 2015. With more than 150,000 products on display from more than 1,000 manufacturers, Toy Fair can be a bit overwhelming—especially if this is your first go-around. Here are some tips for sure success at the largest toy industry trade show in the U.S.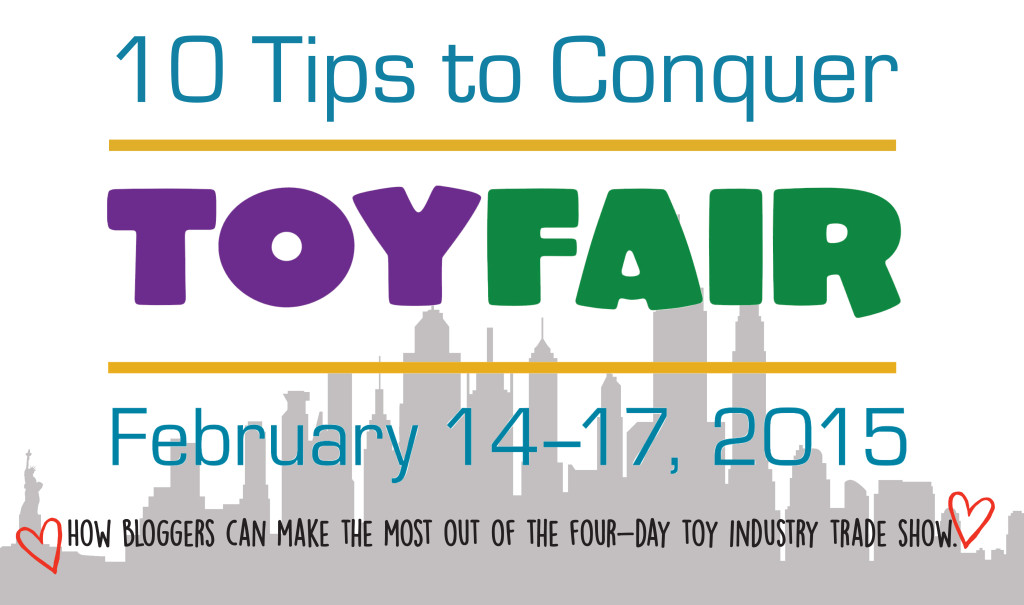 1. Make a Schedule
Appointments are very important at Toy Fair. If there are a few companies you know you want to see, be sure to reach out to your PR contacts and set up appointments. Be sure to ask who you will meet with at the show—sometimes companies outsource their PR, but internal brand reps will be meeting with you at Toy Fair. Avoid surprises and ask in advance who you should ask for when you arrive at the booth. Also be sure to confirm the booth number when you set up your appointment. Occasionally, things get switched around, or some companies share booths and it can get a bit confusing.
2. Use the Event Map
If you know there is a company you want to see, but you don't have a contact, use the event map to search for that company and visit their website. Look on the bottom of the website for a PR or press contact, tweet at them, or send a DM. Use your resources to make sure you get the appointment, because larger companies such as Mattel, Hasbro, Crayola, and Lego likely will not take walk-ins. Remember: There are thousands of people in attendance, and keeping to a schedule helps everyone in the end.
3. Dress Your Best
Toy Fair is a very professional event. Don't show up looking casual. You are a professional and you are there to make business connections. The brand reps, buyers, and journalists will be dressed in business attire, and you want to make sure you are too. But—DON'T wear heels. Comfy shoes are an absolute must. Lots and lots and lots of walking will happen during the four-day show.
4. Don't Waste Time
Figure you will have about 15-25 minutes per appointment—and you'll have a lot of product to see. Don't waste time sharing all of the details of your blog. You are there to learn about product and make a connection, worry about the details later in a follow-up email. Don't be afraid to tell the brands reps that you're only interested in certain items, such as their top products, best-sellers, or whatever is most closely related to your blog. This will help save time and keep everyone on track.
5. Don't Focus on Swag
Toy Fair is not like Sweet Suite or a blogging conference. There will not be a ton of free stuff. Don't expect to go home with a huge haul. Small manufacturers may be eager to give you a sample, but remember that they expect to get a review in return for giving you their product. Be especially careful with smaller companies—they may not know the ins and outs of blogging, so be careful of what you promise.
6. Grab a Toy Book
I'm biased about this one, but The Toy Book is the only dedicated trade publication that features almost 300 pages of information, tips, trends, and insights on the toy industry. It features a huge showcase of all the top products on display at Toy Fair, so it's a great reference guide to review after the show ends. Plus, the entire showcase is broken down by product category—so if you're looking for specific products for gift guides in the future, it's easy to find everything you need in this one magazine. Be sure to grab a copy or two—it's heavy, but it's so worth it.
7. Don't Get Offended
Keep in mind, the primary concern of toy manufacturers at Toy Fair is to sell their products to retailers. While they want press and bloggers in the space, selling is No. 1 always. If a buyer from Toys "R" Us walks into a booth during your appointment, the brand rep you are meeting with may get distracted. Don't take offense—just simply offer to come back at another time. Understand that if companies can't get their products on store shelves, there's nothing for you to review and promote! At the same time, don't wait around for a long time waiting for brand reps to get around to you. Your time at the show is precious as well, and it's easy to simply come back at a better time.
8. Walk the Lower Level
While there are huge companies on the main show floor of Toy Fair, there are amazing new companies to get to know downstairs. Choon's Design, the creator of Rainbow Loom, had a very small booth at Toy Fair in 2013, just a few months before the product exploded all over the U.S. Make sure you set aside a few hours to explore the lower level and meet with new companies. Keep in mind, these little guys can eventually become the big guys. Explain to them what you can do to get their products off the ground, and keep an eye out for toys that seem especially unique and innovative.
9. Do What You Do Best
Tweet, tweet tweet! Post photos to Instagram, share the awesome toys with your followers, and most importantly—take notes. Keep track of the products you really love so that you can follow up later for samples, more information, or future blog posts. Make sure you go in with content goals: Are you on the hunt for the five most innovative tech toys? Are you hoping to find items for your holiday gift guide? Are you looking for one good company to partner with for an ambassador program? Are you hoping to get some great photos of toys that consumers won't see on shelves for six more months? Know your goals, so you can accomplish everything you want to.
10. Use a Rolling Bag
Weird tip, I know—but seriously. Walking the show floor with a heavy purse or tote bag slung over your arm is not ideal. If you bring a small rolling suitcase, you can even pack snacks and a lunch. Toy Fair is at the Javits Center—it's not easy to leave (especially if there's snow on the ground) and the fare in the food court is expensive (and it's unbelievably crowded in there). Plus, you'll likely acquire lots of press materials and industry magazines, and checking bags can get expensive, too. A rolling bag solves all of the problems!
Don't forget—Toy Fair is still four days of kid-free playtime. You'll get the chance to take photos with the Teenage Mutant Ninja Turtles, play with toys before any consumer sees them, and maybe even meet some Internet-famous cats, all while learning a lot about the ins and outs of the toy industry. Use these tips to ensure you have a fun-filled four days of success.