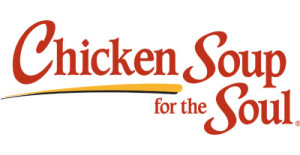 We are so excited that we are going to be part of Blogger Bash AND be the official food sponsor of Sweet Suite! Not only are we looking forward to meeting and treating you all to our very special Chicken Soup for the Soul cuisine, but we wanted to extend a special invite to join our Soup-er Blogger Network! Our exclusive network of bloggers, media mavens, and influencers work hand-in-hand with Chicken Soup for the Soul to review new book releases, food and pet products, and conduct exciting giveaways. They also have the opportunity to be featured in our newsletters, on our website and in our social media! Apply today and you'll also be entered to win an exclusive Multi-Tasking Mom Survival Kit—just for our Blogger Bash attendees!
The Perks of Being a Soup-er Blogger:
 Giveaway Program: Receive between two and four copies of every new Chicken Soup for the Soul book when it is published, as well as samples of many of our new food, pet and licensed products.
Content and Excerpts to Post: Receive a customized selection of content to have at your fingertips and use at your leisure. Whether you want to add a little sunshine to your readers' day, acknowledge a specific event, or tie it into one of your giveaway contests, we will give you exclusive access to our Soup-er Blogger library.
Gift Guides: Do you publish holiday, seasonal, or special event gift guides? Let us work with you to include fun new products, special selections, promotion offers and more!
Product Sales Direct to Consumers: Does your site have a store? Do you have links to purchases where you receive an affiliate fee? Would you like to earn a commission selling items that we help promote? Let us know on your application form and we can provide resources to support your marketing efforts.
Inclusion in our Soup-er Blogger Directory: We will include your site in our blogger directory hosted on ChickenSoup.com.
Become a Featured Blogger: Each week, you will have a chance to be included in our daily newsletter and on our website as a Featured Blogger.
Eligibility:
25,000 unique monthly visitors (provide screen shot of stats)
Provide positive and/or informative content for living a happier, healthier life.
Actively posting at least once a week.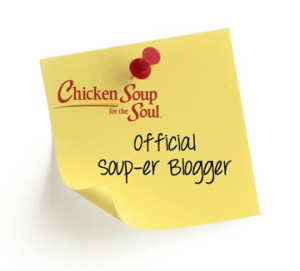 Requirements of a Soup-er Blogger:
 Review a minimum of seven Chicken Soup for the Soul books and at least three additional products per year, and provide us with a link to each review when published.
Host a giveaway for each new book or product received and provide us links for the contest once it is published. Each giveaway must be live for at least seven days and mentioned at least five times during the course of the contest—this can be a mixture of blog and social posts (Facebook, Twitter, Instagram, etc.)
All giveaways must be completed within 60 days of receiving the relevant product unless otherwise stated.
Unless you already use a different contest format, we request that you use Rafflecopter for each giveaway and provide additional entries when readers sign up for our free daily story.
Feature a link or banner ad to ChickenSoup.com on your site year round. These assets will be provided to you.
These perks are available only to our exclusive network of Soup-er Bloggers! Submit your application today and join us at Sweet Suite and Blogger Bash in July! We look forward to meeting you!
Submit your application here: http://bit.ly/1nBT5bE
Find us on Facebook, Twitter, Instagram and Pinterest and follow us on the road to Blogger Bash!
#SouperBloggers