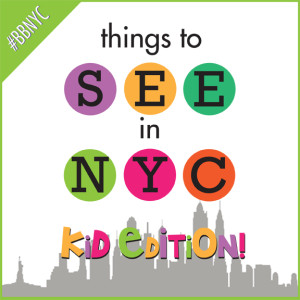 Blogger Bash is a two-day party for bloggers—but the last party is designed for kids, and so is lots of New York City! So why not have your SO watch the babes on Thursday and Friday, have the whole family party with Kidz Vuz on Friday night, and then spend the rest of the weekend enjoying all Manhattan has to offer with your little ones!
Toys "R" Us Times Square: 1514 Broadway, south corner of 44th Street
This place is anything but just a toy store. There is a Ferris wheel featuring kids' favorite characters, there is a giant T-Rex, and there is Candy Land. The store has three levels of fun for kids, including a life-size Barbie Dream House featuring hundreds of girls' favorite fashion doll and an entire section featuring #sweetsuite14 sponsor Activision's Skylanders Swap Force! You can get your picture taken with superheroes, and you can even get hands-on with lots of fun in-store demos. Even if you don't buy anything (which you probably shouldn't, considering you'll be coming home to a giant box full of toys from Sweet Suite sponsors), it is a really fun time for the family. Just beware of the crowds!
Ellen's Stardust Diner: 1650 Broadway, near the southeast corner of 51st Street
Ellen's Stardust Diner is a retro 1950s-themed restaurant that features a singing wait staff. Most of the waiters and waitresses are Broadway-bound singers, and they will keep you entertained throughout your entire meal. The diner looks like something straight out of Grease, with adorable décor, delicious milkshakes, and a wait staff decked out in poodle skirts and bowling shirts. The staff isn't a bit shy, either—they are ready to jump on tables, dance on the soda bar, and get your kids involved as much as they can! The menu is full of traditional American favorites, from cheeseburgers to waffle fries to Oreo milkshakes. Be sure to have your camera in hand, as this is an experience you'll want to capture on film!
Dylan's Candy Bar: 1011 3rd Avenue, near 60th Street
Kids will feel like they are in Willy Wonka's factory when they step foot inside Dylan's Candy Bar. More than just a candy store, Dylan's features fun candy-themed décor, such as an over-sized lollipop tree, candy cane columns, dripping chocolate shelves, kaleidescopic candy wallpaper, and candy-embedded staircases. With more than 7,000 confections, Dylan's has something for every candy-lover, including a fun pick-and-mix station, where kids can compile all of their favorites into a to-go bag. Everything in the store, from apparel to the music, is candy themed, and the delicious candy aromas are sure to even bring out the inner-child in adults.
Central Park: Multiple Entrances
Central Park is one of the most iconic spots in New York City. From horse drawn carriage rides to caricature artists, Central Park has so much to offer kids and families. With endless beautiful statues to see, some of my favorites are the Alice in Wonderland statue and the Weeping Angel. There are also super engaging attractions, including the Conservatory Gardens full of beautiful flowers, the Central Park Zoo with free shows all day, and rentable by-the-hour rowboats for a scenic tour of the park. You can even schedule a "Hidden Secrets of Central Park" three-hour walking tour, where a guide will lead you through some of the lesser-known but astoundingly beautiful parts of the park. Whether you and your kids just want to relax on the Great Lawn or check out one of the awesome attractions the expansive park has to offer, it's a great way to spend the day with the family.
Bronx Zoo: 2300 Southern Boulevard, Bronx
An easy subway ride from Manhattan, the Bronx Zoo will keep kids busy and active all day long. Featuring more than 600 species of animals, including mammals, birds, reptiles, fish, and insects, kids can learn all about natural history, biology, and the importance of environmental conservation at the zoo, all while getting to see exotic animals up close. The Bronx Zoo includes more than 10 exhibits, including a Children's Zoo where kids can pet and feed animals and hang out in fun, themed play areas, like Prairie Dog Town. Additional attractions include the butterfly garden, the baboon reserve, and the Wild Asia Monorail. Kids can also hop aboard the Bug Carousel, take a trip to Madagascar, or enter into the Mouse House. You can buy discounted tickets online, and learn more about all the Bronx Zoo has to offer by clicking here.
Staten Island Ferry: South Street & Whitehall Street
The Staten Island Ferry is a great little boat ride that is 100 percent free of charge. The ferry travels from South Street Seaport to Staten Island in less than 30 minutes, and provides great views of the Manhattan skyline, as well as the Statue of Liberty. A fun experience for kids and adults, you have the option of sitting inside or outside to get the wind in your hair and great views. While there's lots to do on Staten Island, you can easily exit the ferry and hop on the next one right back to Manhattan. Circle Line Cruises are great, but they essentially take you on a similar path that the ferry does, and they cost about $45 per person (not to mention, the ferry terminal is air conditioned, while the CLC meets on a hot, hot, hot dock in the sun).
 There are a ton of great activities to do in NYC—this is only the beginning! And while all of these spots are sure to keep the whole family entertained, we know that some of you will be looking for a girls' night out, or taking an NYC couple's retreat! Be sure to check back for new editions of Things to See in NYC!