About Rooibee Red Tea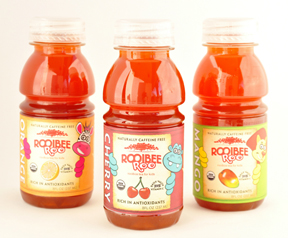 Rooibee Red Tea recently launched its new line of teas designed for kids, and they are bringing it to Blogger Bash! Who says teas are just for grown ups anyway? Rooibee Roo is uniquely delicious, wildly nutritious, and just for kids! Rooibee Roo is made from South African Rooibos Red Tea and has lower sugar than other kids' beverages. The certified USDA Organic, all-natural teas are rich in antioxidants, naturally caffeine-free, gluten-free, and contain a full serving of Vitamin C. Not to mention– they're delicious!
Rooibee Roo comes in a kid-friendly BPA-free plastic bottle that is 8 ounces, vs. the 12 ounce parent bottle. With only 12 grams of organic cane sugar and less than 60 calories per serving, it is within school nutrition guidelines.
Become a Rooibee Red Ambassador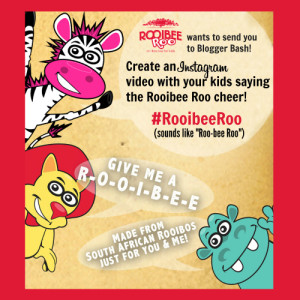 We're so thrilled to have Rooibee Red Tea at Blogger Bash, and they  want to send one blogger to the conference as their official Ambassador!
So how can that be you?
Create an Instagram video with your child(ren) sharing the Rooibee Roo cheer:
"Give me a R-O-O-I-B-E-E! Made from South African Rooibos just for you and me!"
Make sure you tag your Instagram video with the #RooibeeRoo.
The contest runs through June 12, 2014 and the winner will be announced on June 13, 2014. One lucky winner will receive a VIP ticket to Blogger Bash NYC (valued at $250) along with a $500 travel stipend to attend the event. you can find the full contest rules here! Good luck everyone!
NO PURCHASE NECESSARY OR PAYMENT.  A PURCHASE OR PAYMENT OF ANY KIND WILL NOT INCREASE YOUR CHANCES OF WINNING.