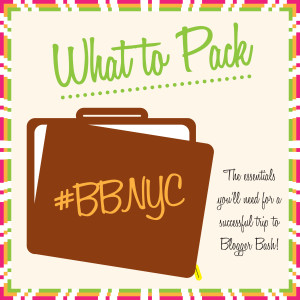 We are only FOUR SHORT WEEKS away from the opening of Blogger Bash in NYC—and we absolutely can't wait to see you there! We know by all your social media love that you're just as excited as we are, so we're back with another post to help your stress-free planning for your trip to the city. This time: packing essentials!
1. SMARTPHONE: Your connection to all of #BBNYC! Most likely, by the end of the day on Friday, you'll have thought that your smartphone is a new permanent extension to your hand. Everyone will be Tweeting, Instagramming, Pining, Vine-ing, and other social-media-verbs-ing all over the place, and you won't wanna miss out on the fun. Plus, since you're oh so lucky enough to be able to get a sneak peek at all kinds of never-before-seen product, you'll want to be able to share with your friends/family/followers that couldn't make it. Some of our sponsors will be doing on-site giveaways across all different kinds of social media platforms so stay connected! (It'll also help you navigate NYC a bit better if you're unfamiliar. Check out our post on traveling in NYC for apps and other suggestions!)
2. CHARGER: Because what good is a smartphone with a dead battery? It seems like a simple thing to remember to pack, but trust us: it's also one of the simplest things to forget to pack. Better yet: Bring a wall charger for the hotel and extra portable battery or power pack if you can. That way, you can plug in your phone without missing a beat!
3. WELL-RESTED THUMBS: See No. 1.
4. SUPER CUTE OUTFITS: Remember, you're not only hanging out with friends, food, and fun all day, but you're also out there building business relationships. No need to get super fancy—you'll look fabulous in a comfy, yet professional outfit that makes you feel confident. With face-to-face meetings all day, you'll want to be professional, but you won't want to feel constricted, trapped, or unable to comfortably sit down. Choose some of your favorite outfits—your confidence will help you make the best impression!
5. COMFY SHOES: If you can spend an entire 13-hour day in fabulous stilettos, you are our hero and good for you. Chances are though, the rest of us would like to spend our time focused on the brands and great products instead of on how much our feet hurt and counting down the hours until we can be barefoot again without it being a social faux pas. That doesn't mean you'll have to sacrifice being fashionable—just be cleverly fashionable. Make sure you can be on your feet in the shoes your wearing. If you're planning on buying new shoes for the occasion, make sure you break them in before you get there (blisters are the worst!). Same rules apply here as they did to your wardrobe choices above.
6. BUSINESS CARDS: Since you're looking all fabulous with your charged up smartphone, we're confident that you'll be forming all kinds of new relationships: blogger-to-blogger, blogger-to-brand, etc. Don't forget to bring along those business cards (and to ask to exchange cards so you can follow up post-event!) so that you can make the most of each connection.
7. A FRESHLY CLEANED-OUT PURSE: All moms have those full bags that contain all kinds of surprises from days, even weeks, before ("Wait, how long has this bag of Fruit Loops been in here?!") Since you'll be on your feet all day, you'll want to pick a sensibly sized purse that only has what you'll need for the day in it. There's no need to Mary Poppins yourself and be able to pull out a floor lamp at the drop of a hat. You'll be thankful for the lighter load after a full day or two on your feet.
Seasoned conference-goers: Any other suggestions for packing essentials? Leave them in the comments below to help each other out!