by Nancy Friedman, Co-Founder, KidzVuz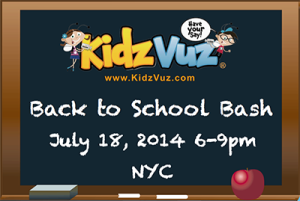 Your kids are invited!
KidzVuz is video by kids for kids, and our Back to School Bash is the ONLY party at Blogger Bash that invites kids ages 6 to 16 to join in the fun. We like to say that our party is really for the kids—and the parent bloggers they happen to bring along!
We'll have games for them to play, activities, kid-friendly healthy snacks, a raffle, and more. They'll even be able to make review videos of the great products in the room right on the spot at our KidzVuz video stations. Plus, we'll have a special area just for parents, so they can relax while your kids party!
The best part? Every kid who attends gets his or her own gift bag!
 What is KidzVuz?
If you have kids, you know they have opinions—and that's what KidzVuz is all about. KidzVuz.com is a site kids can go to make and share video reviews about anything they want. This platform gives kids a safe space to share their opinions and hear what other kids have to say about the books, toys, tech, gear, clothing, and other products that rule their world.
Check out this video to see what we're all about:
We are so excited that our Back to School Bash is the grand finale to the two days of awesome content, networking, and parties that Blogger Bash has in store.
We're looking for some Star Reviewers  
We have lots of sponsors lined up, but we can't share their names yet! Trust us when we tell you: they are awesome! And guess what? They want to hear from articulate, adorable kids, like yours! Sign your kids up to be KidzVuz Star Reviewers and they could get free stuff from our sponsors in exchange for a KidzVuz review!
It's easy: just register your kids for a free KidzVuz account, have them make a video review about anything they want, and if they're selected by the sponsor, we'll send them awesome stuff for review. (Why do they need to make a video? Because while your kids are undoubtedly as fabulous as you are, the sponsors don't know that yet! We need to be able to show them your kids' videos in all their fabulosity so they know who they're getting!)
Be on the Lookout
We want our party to be super fun for kids (and for you)! So be on the lookout for an email asking you about you and your kids. Answering a few simple questions will help us be ready for you all when you get to the KidzVuz Back to School Bash on July 18th from 6 to 9 p.m.
We can't wait to see you and your superstar kids!