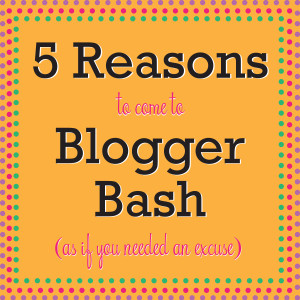 Not that we think you need five excuses to attend, but just so you have a way to justify it further:
1. It's a big, huge, two-day party.
We've done our research— and we know moms need to let loose! While some conferences lock you in a convention center from dawn to dusk to sit at an eight-person table and listen to speeches, we're giving you 10 different hands-on party options for you to attend from 8 a.m. to 9 p.m. That's right—13 hours of non-stop partying. There will be music. There will be drinks. There will be food, fun, networking, and— of course—some of the most well-known household brands. We're not here to teach you how to blog, we are here to connect you with popular brands and bloggers to grow your network and establish partnerships.
2. It's in the greatest city in the world.
Okay, so, we're biased. But it's NEW YORK CITY! Home to huge, beautiful buildings that touch the sky. There's (literally) dancing in the street. It's got bagels the size of your head and bottomless Sunday brunch (aka unlimited Mimosas for $6). You can get pizza for $1, and there is a Starbucks on nearly every street. Please, find me a better city.
Okay, back on track: Blogger Bash runs from Thursday to Friday, which means you can bring your SO and the kids and enjoy the city for the weekend! From free ferry rides to the Statue of Liberty, there's a ton of amazing stuff to do with your family (or your blogger buddies!).
3. You'll be a part of history!
Blogger Bash 2014 is the very first Blogger Bash EVER—but certainly not the last. How cool would it be to say that you were a part of the VERY first one?
4. The fun begins with Sweet Suite!
Sweet Suite is one of the most anticipated events in the blogger world. It draws hundreds of bloggers and it is—above all else—fun! Kids get to have all the fun in daily life, but Sweet Suite is kid-free, and bloggers are allowed to play with the toys before they are out on the shelves and before kids take over! Let's face it: toys are one of the most important consumer product categories if you are a parent, and they have such a huge impact on kids' personalities, futures, and development. Not to mention, these companies are looking to partner with influential moms and dads—and Sweet Suite is the perfect opportunity to show them your stuff! So come, party, play, drink, and network, network, network!
5. You will get a lot of free crap.
Oh, em, gee—the SWAG! Just like last year, all of your amazing Sweet Suite swag will be shipped right to your doorstep, but we would be remiss if we didn't bombard you with free stuff on day two of Blogger Bash as well! You'll be going home with products to test, review, and enjoy. And while we are happy to hook you up with brands you already know and love, we will certainly be introducing you to a few new fabulous companies as well! The whole family will be happy.
So there you have it, five perfectly good reasons why Blogger Bash is the conference to attend this year. Tickets are on-sale now by invitation only, so be sure to apply for one today! And don't forget to tell all of your blogging buddies about this amazing new conference!