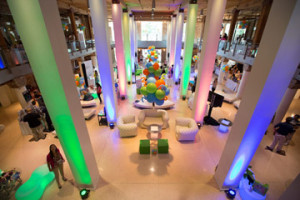 The first Blogger Bash conference will kick off with The Big Toy Book's fabulous Sweet Suite party. Over the past few years, Sweet Suite has been a hub of digital influencers creating millions of impressions throughout one fun night of play. The Big Toy Book's Sweet Suite is an event divided into play areas sponsored by some of the biggest names in the toy industry. Bloggers can explore the floor, test out new products, make connections, and catch up with old friends, all while enjoying delicious sweet treats. But what really is it about this particular party that makes it a can't-miss experience for bloggers?
First and foremost, you get to play. Forget just strolling around booth-to-booth and watching toy demos. Last year's Sweet Suite saw bloggers drifting and spinning on Razor's Crazy Cart, battling head-to-head with Tomy's Battroborg, taking the Original World Softest's blind softest stuffed animal test, and experiencing Cloud b's soothing sleep room. Bloggers aren't there to watch; they're there to have fun! These brands all value your opinion as a digital influencer, and this is your chance to get hands-on experience and then share your favorites with your readers. It's a win-win!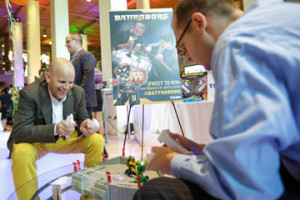 Another great advantage Sweet Suite gives bloggers is the chance to get face-to-face with representatives from the companies behind your kids' favorite toys. If you have questions, the experts are there to help you out. Make suggestions, become a brand ambassador, meet new people, form new relationships—the network keeps growing and growing. As opposed to sitting in an audience for an informational panel (which have their own advantages), bloggers get to personally spend some face time with the companies they choose to at Sweet Suite. Bloggers can check in with their old connections and forge new ones as well!
For digital influencers such as yourselves, you know it's all about networking. Bloggers at Sweet Suite not only form and strengthen relationships with big name toy companies, but also with one another. There's a huge opportunity to connect with other bloggers, parents, and more. Build your social networks, team up with one another, swap stories over sweet treats—this is a great place to do it. Although it's full of toys, this kid-free event allows you to let loose, hang out with your friends, and get a night out on the town in New York City!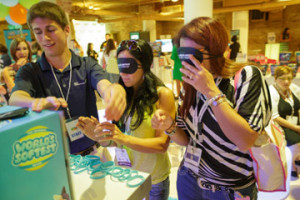 Finally, there's no need to let those extra suitcases bog down your travel plans—The Big Toy Book ships your swag. Sweet Suite is worry- (and bulky-bag-) free so bloggers can really focus on their friends, the toys, and the brands while they're there. When you get home, a box of swag will be waiting on your doorstep for you to share with your family and review for your readers. That way, Sweet Suite can last for more than just one night of fun!
Sweet Suite is a blogger party designed to benefit both bloggers and brands mutually. It enables the formation of business relationships, fosters friendships, and is just plain ole' fun! Be sure to check out the details on Blogger Bash's opening party, Sweet Suite, on The Big Toy Book's website. We'll see you July 17!
Tell us in the comments below what you think makes a great blogger party! (You are, after all, the experts.)