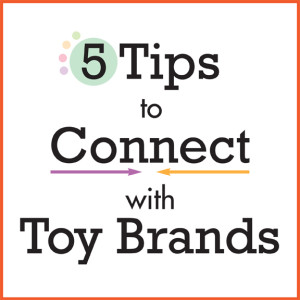 When you're face-to-face with a big-name toy brand, it can be hard to make an immediate impact—especially when you've only got a few minutes. The Big Toy Book's Sweet Suite event, part of Blogger Bash, will guarantee you face time with the biggest toy brands out there right before the holiday season, so here are some tips for success in making lasting connections and leaving an impression:
1. Take interest in the product: When you walk over to a company's play area, don't lead with your impressions, UMVs, and Twitter following. Introduce yourself, tell them what blog you represent, exchange cards, and then focus in on what they have to show you. Sponsoring companies are there to show you their top priorities for the holiday season, and their time is just as precious as yours. Play with what's on the table, tell them what you like about it (or what you don't), and be sure to take notes and/or photos. This will show them that you are serious about the product and that it genuinely interests you.
2. Be brief, stay focused: Don't go into the details of every single section of your blog. While it's great if you have fashion, food, and other lifestyle pages, what these companies want to see is how you cover toys and children's products. Show off your toy reviews and/or videos. Tell them the ages of your kids and what your kids are most interested in. Explain how your followers look for these reviews and demonstrate how you can give the brand at hand important exposure.
3. Make promises you can keep: If you promise a company a great toy review and then you don't follow through, odds are, you might be blacklisted. Product samples are expensive, so only ask for them if you can fully commit to the review you promise. Your writing is what the company is paying for by way of product, so stick to your word and keep the relationship mutually beneficial. And don't forget– you're already getting a box full of swag, so don't make acquiring samples the night of the event your first priority– we've already taken care of that for you!
4. Use social media: The brand representatives will be tracking #SweetSuite14 as the event is happening, so if you see something you love, take a picture and Instagram it, tweet it out, and post about it on Facebook! This will show the brand reps you really are a social media guru, and it will make them remember you!
5. Follow up: Collect as many cards as you can at Sweet Suite and be sure to send follow up emails to the brand reps thanking them for their time and express your interest in their products again (if you are interested, that is). Don't outright ask for product samples unless you feel wholly comfortable doing so—just make sure they know that you enjoyed meeting them and that their products are relevant to your site and brainstorm a few ways you can partner in the future. Following up after the event will ensure that you get the most out of Sweet Suite and you establish lasting connections with these companies.
Sweet Suite 14 will be the biggest night of play—so come prepared, have a blast, and make connections that will last!